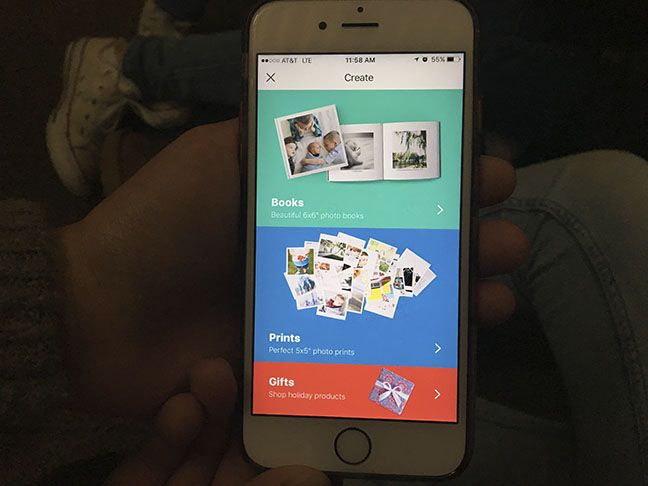 The app Chatbooks created by Chatbooks Inc. creates memorable photo books automatically from the pictures on your Instagram, Facebook or the favorites on your camera roll with barely any work necessary.
The app was originally released in 2014, but a Nov. 14, 2016 update allows users to pick a premium cover if they have the IOS 9.0. Just three days before that there was another update that enables sending of gifts, which will be great for the holiday season.
The actual app is free, however each photo book costs $8. This is a great deal considering you get a book that has 60 photos in it, and it creates the book for you so you don't have to do any work. However, with the new update there is a new feature where you can create your own custom photo book. With the custom photobook you can choose if you want a hardcover or soft cover. The only downside about this is instead of $8it is $12 for 60 pages. Something you can't do with a regular photo book is for one dollar you can add six more pages. In the book there can be up to 366 pages.
Chatbooks takes 60 photos from your favorites on your camera roll, Instagram and Facebook is created into a photobook with six by six photos then sent to your house. Not only can you print photobooks, there is a feature that allows you to print five by five photos for every 24 photos that is added.
A new key feature in the update is that you can create gifts. Although these are a little more expensive with the cost of $19, this is a good value because you get a hardcover book and the ability to pick illustrations to include.
With the holidays just around the corner, there is a holiday chatbook gift. You can choose holiday illustrations. The illustrations are cute and cartoon like. They have the feeling that someone drew them. The cover has Christmas trees and reindeer on it. This would be an amazing gift to give to a relative if you're stuck on what to give them. If you're not in the holiday spirit you can still give a "gift" with a different theme. The others they have are the friend chatbook, 2016 highlight book and the best gift is you.
This app is easy to use especially if you have it setup to have it automatically sent to you. So far I have not found any glitches. If you like Shutterfly, you will enjoy this new feature.
by EMERSON MCCOY