Gabby Roberts starts a YouTube channel to help others with makeup advice and tips
Hang on for a minute...we're trying to find some more stories you might like.
After gaining interest in makeup Gabby Roberts decided to begin doing makeup for special events. From there her business began to excel by creating her Instagram page. Roberts has now decided to start a YouTube channel to give more detailed tutorials and videos that provide her viewers with advice on how to improve their makeup skills.
Q: How did you get into doing makeup?
A: When I was little my bubbi (step grandma) would always teach me about makeup, and ever since I've been interested in it.
Q: Who is your inspiration for makeup?
A: Nicole Guerriero, a YouTuber, and what really inspires me is the body art she does. It's really amazing what she can do with a brush and some paint.
Q: What is your main goal for your YouTube channel? Why did you want to start in the first place?
A: My main goal for my channel is to inspire people like I've been inspired by so many beauty influencers. I also have a lot of people ask me for advice or tips on general so I feel like instead of responding to all of the questions it would be easier to just make a video!
Q: Do you do anything else outside of creating your channel that involves makeup?
A: Yes, I am a freelance makeup artist. I've done weddings, bachelorette parties, prom and homecoming makeup. I've also had a few pageant girls invite me to do a makeup class where I teach them different techniques.
Q: What is your favorite part of doing makeup?
A: My favorite part is seeing the woman's reaction to it. They always light up when they look in the mirror and it's so rewarding.
Q: How does it feel when you do a wedding or other large event?
A: It's pretty scary walking into event because you never know what they envision or what they want but I always assure my clients anything they don't like we'll fix. But after I feel so amazing knowing I could help these women feel beautiful.
Q: How much do you charge to do makeup for e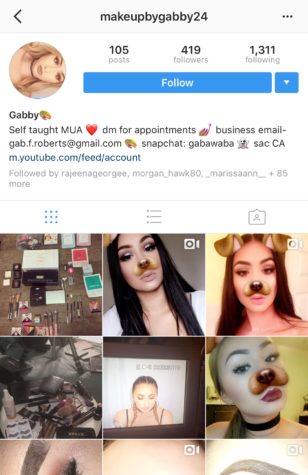 vents?
A: For Prom and Homecoming events I charge $25 a face and for weddings and photo shoots and such it's $45.
Q: Does your makeup jobs ever conflict with other events in your life?
A: Sometimes it's hard to balance because I'm also training for my upcoming college volleyball season starting after graduation, and the training takes a lot of time and dedication, so I have to work around my busy schedule.
Q: Will your channel be solely based on makeup?
A: Makeup, maybe some motivational videos, I really want to base it on empowerment and knowing your worth, feeling beautiful inside and out. With and without makeup. Once you learn to love yourself, makeup becomes a lot more fun because you don't feel like you need it to be beautiful or feel confident. It gives you more room to experiment with different looks and such. I see makeup as more as an art form personally.
Q: Do you have any other social media people can follow to see your makeup?
A: Yeah, my makeup account on Instagram is @makeupbygabby24 and that's where all my info is to book appointments etc. I haven't posted lately but I'm planning on coming back soon with a whole set of new looks.
Roberts plans to release her first YouTube video this spring.
by RENESE LOPEZ