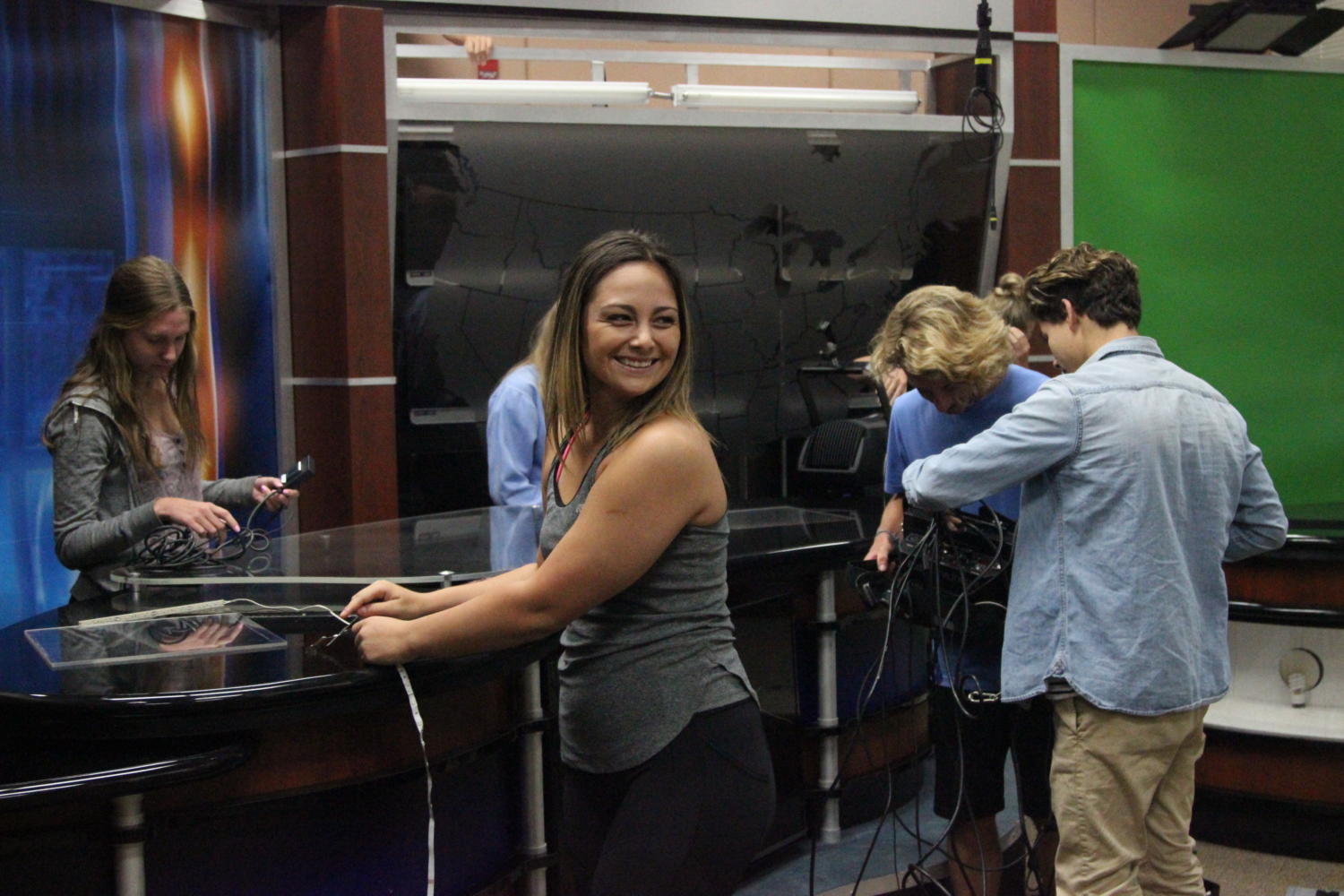 After using the same blue backdrop for nine years, the same desk since 2012 but slowly adding new elements every one or two years, the broadcast program, WCTV19, is completely renovating their look. Local news channel KCRA 3 decided to donate their set to WCTV19 after learning they were receiving their own new equipment.
"We have connections with KCRA 3 through Zach Dart's dad, [Mr.] Gulstan [Dart], and they said they were getting a whole new set, so we could take anything we wanted from their old one," Faith Abercrombie said.
Broadcast teacher Mr. Ben Barnholdt quickly jumped on the opportunity to receive a professional set.
"We've worked together with KCRA 3 before and they've seen what we have. We're a public school where we have to try to create our own backdrop and our own setting. [Gulstan Dart] said they were getting a new set within the next month at KCRA and they want to get rid of the old one. They were going to put it in a dumpster, and he said to wait and give us two days, so he called me and told me I had two days to come get it," Barnholdt said.
Broadcast editors went to the local news station to view the set and choose what they wanted and then returned the next day to pick up the pieces.
"We were really lucky because we wanted a new desk. We've been looking them all up but they were so expensive, but now we got it for free," Kylie Thompson said.
Prior to getting a new set, the editorial board had already planned the first episode of "Unleashed." However, they now have to rewrite their plans.
"We went through a whole layout of the show and planned everything out, but then we found out we were getting a new set so we have to lay it out again because everything's going to be completely different. But it's exciting because it's a change," Abercrombie said.
The new set brings a new look, allowing broadcast to expand the possibilities of their shots.
"Visually it's different because it's wrapped all the way around, so there's no limit to what shot we can get. There's not going to be a weird random background or anything, and everything kind of matches so it leaves a lot of options for us when we're filming our show," Emily Manzer said.
One big change in setting is to the sports "Full Court Press" background.
"It's a professional news station set and backdrop, whereas before we had old lockers from the locker room when they cleaned them out a couple years ago. We used gaspipe that we bought from Home Depot to hold up the backdrop and a lot of duct tape. We were piecing things together whereas [the new set] is like a wrap around that you would buy," Barnholdt said.
Although the editors were ecstatic about the new set, a few challenges came along with it.
"Lighting is a big problem because we have to readjust all the lights on the 'L' shaped fixture that hangs above the set and make sure that there's backlighting behind and it's not shaded on any part of their faces," George Loureiro said.
Along with adjusting the lights, changes to camera location had to be made as well.
"Since the set is so big we had to push all the cameras back, so now we have to figure out if we can even fit all the anchors in our two-shot of the whole desk. For example, when we have 'The Word' person come up, are they going to be in that shot? So it's pretty much coming up with all the different camera angles now," Meghan Townsley said.
With the start of school approaching quickly, the editors and Mr. Barnholdt are working hard to make sure everything is prepared for their first episode.
Barnholdt said, "Traditionally for the last decade, we've always had the first show the week before Labor Day weekend. We come back from summer and teach and introduce the new staff and go over some of the expectations. We're not going to change when our first show is going to be because the stuff is new; we're going to work harder to make sure it's ready to go when it usually is."
by BRITNEY FLINT and SIENNA EAGLE