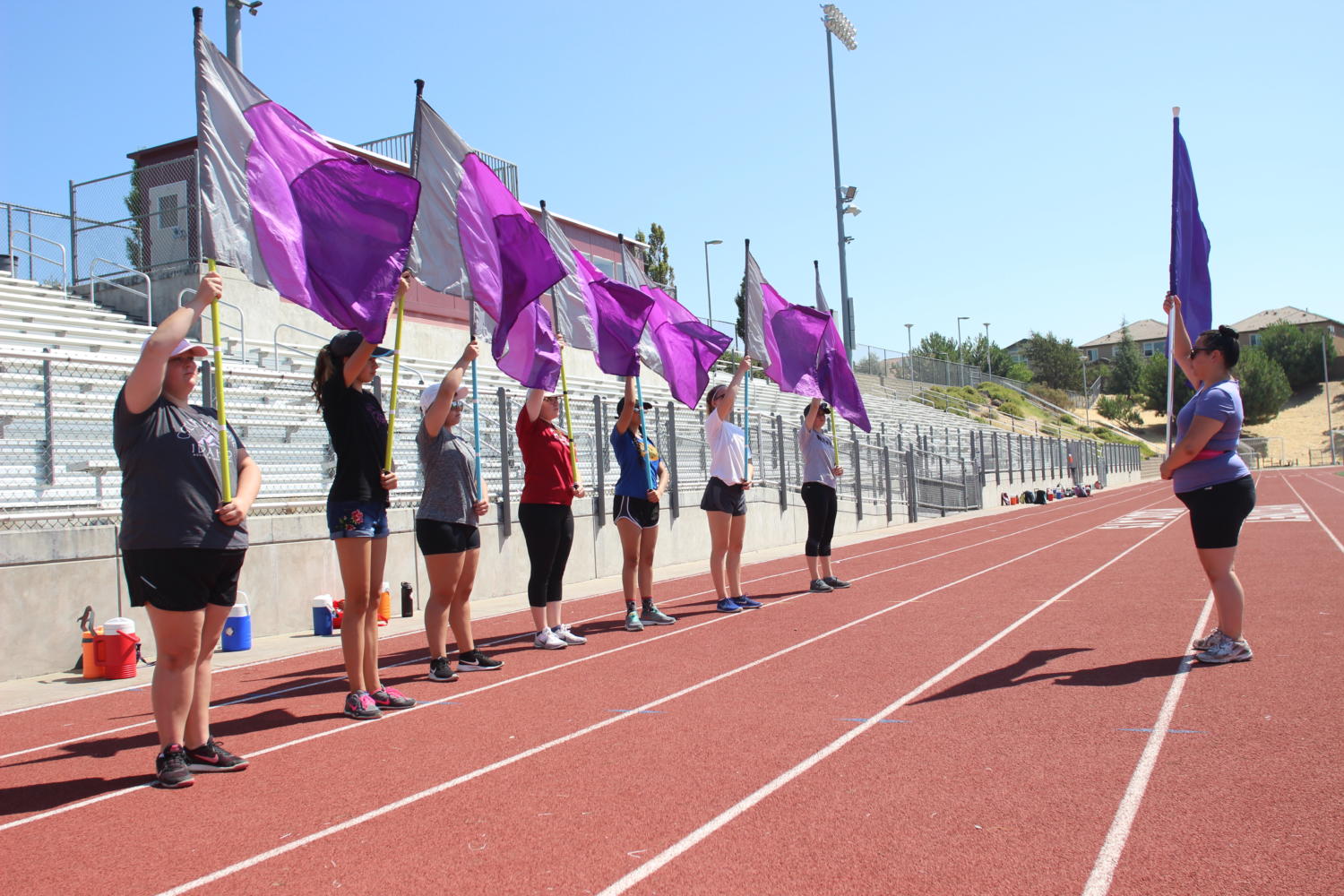 While marching basics on the field, Ashton Davis focuses on the heat instead of the movements which have become muscle memory after three years in marching band. Although it makes practice more challenging, marching band members have come to realize 96 to 105-degree weather is just another staple of band camp.
Although they had practices the week prior, Aug. 7 through 11 officially marked the beginning of marching band season with annual band camp, consisting of daily practices from 9 a.m. to 9 p.m.
"It helps us get a jump start on not only football season, but our competitive season. [The band] has to get all the music prepared for football games — show music along with their drill. When the school year starts we can just focus on learning drill movement and putting things on the field instead of, okay we gotta go back and learn this piece of music," band director Mr. Kris Harper said.
A new element to band camp this year was their march-a-thon fundraiser, for which they raised $1300. Throughout the day Aug. 9, Harper and the students tracked how many steps they took. Then, they found the average amount of step taken between everyone in the program. The music program accepted flat donations to buy new equipment and instruments.
"One of the parents came up with the idea, like Relay for Life or Walk for a Cure. We thought, 'Hey. we can do that. We do a lot of moving at band camp.' So we just picked a day to see what happened," Harper said.
During the hottest part of the day, the band plays music in the theater, band and choir rooms; however, they still have to practice movements on the field. With the high temperatures reaching into the 100s, it was essential students learn how to properly deal with practicing in the sun.
"I'm kinda used to the heat since I did cross country summer practices this year. Mr. Harper always reminds to wear sunscreen and keep water with us, so we don't pass out in the heat. Even then, I still sweat a lot," Jessica Franco said.
While the heat has been quite a competition for everyone, three candidates faced another "competition." Rachel Larson, Gabby Bocchicchio and Carl Porras were all candidates for the position of drum major.
The audition process occurred in the spring, with many different parts the candidates went through. They started with the individuals teaching and conducting a group, followed by an essay and interview section. Because of the importance of a drum major and the talent all three of them hold, the decision was a difficult one for Harper to make.
"We have been putting them under trial by fire and putting them in front of the band to see how they do leadership and conductive-wise," Harper said.
The morning of Aug. 10, Harper announced Porras as drum major.
"My reaction was very mixed. I was happy that I had the opportunity to represent and lead my band. But that opportunity came with a lot of pressure to be an example for my bandmates and to be able to put them in a position where they can succeed," Porras said.
With the leadership position established, marching band will continue to practice for this year's theme: Second City Nights.
"It's based on jazz music of Chicago style. If you listen to the beginning of gangster movie music; it's kinda got that feel to it. Then there's a ballad section that has the feel of a 1930s speakeasy, late at night, early in the morning. The tempos go pretty fast, but it's something we haven't done before," Harper said.
Marching band's most recent performance was before the Maroon and Gold game and at the parents' barbeque Aug. 11.
"It felt great. It was fun to finally go out and perform in front of a crowd; leading the fight song was my favorite part," Porras said.
Marching band will be in the stands the first home football game Sept. 1; however, Harper will decide whether they are ready to perform at halftime.
by EMMA ACCACIAN, AJ CABRERA, ZOEY CUMMINGS AND DANICA TRAN