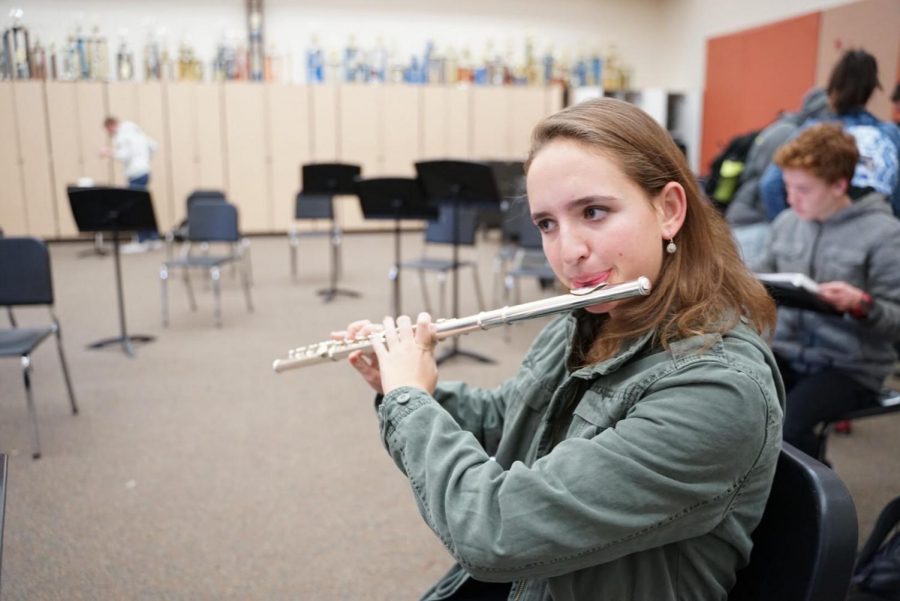 Grace Chang
Waking up Jan. 5, Carina Geist received a text from clarinetist Rachel Dolan that said, "Congratulations!" Geist wasn't exactly sure what the text referred to, but she had her suspicions. She ran to the other side of the room, pulled up the list on her mom's computer and confirmed: she made it into the All-State Honor Band.
"When I saw it, I started crying. I was shaking, and then I went outside and hugged my parents. It was great," Geist said.
This achievement would not only be special for Geist and her family, but to the school as well.
"It was a very exciting experience because Whitney's never had a musician that made it into the All-State band even though we've had a number of people audition. It's one of those things that to make it on the flute is exceptional because there are so many people who auditioned on that particular instrument. There's between a 140 and 160 [flutists] that audition every year," Geist's band teacher, Mr. Kris Harper, said.

Typically, the honor band has 3,000 applicants wishing to play on their various instruments; including clarinets, trumpets, trombones and percussion. Students around California record and send in an audition that the central organization, CMEA, requires. Following acceptance, each person completes a live audition and rehearses with the ensemble for four days. The several days of rehearsal conclude with the final concert on Feb. 17.
"You pretty much never play with that same group people ever again, so it's a really cool experience," Geist said.
Aside from All-State, Geist participates in All-Northern, Northern California and Capitol Section Honor Bands. As a sophomore, completed the Capitol Section band over the weekend on Jan. 12, where she was ranked first out of the other flutists.
Prior to the concert, she commented upon what she looked forward to most. "I'm really excited for this 'Lord of the Rings' song that we're playing because we played a version of it in middle school, but this is the actual arrangement. It's really exciting. And of course, I'm just excited to perform because I love performing," she said.
Inspired by her mom who played the flute, Geist continued to express her passion for these events.
"I honestly like the competition aspect of it. I like the pressure situations and feeling like you did a good job and then waiting for an audition after it's really rewarding. Obviously I like when you actually get to play a song and it's really challenging but you've mastered a section and you can kind of get lost in the music. It's just like the sound is all around you and you kind of forget who you are," she said.

To achieve such accomplishments, she maintains a consistent schedule that helps her balance school and music while excelling in both.
"My goal every day is to get two hours a day, so usually I just come home from school and then do homework for two hours. Then I'll go and do practicing for two hours. I have music lessons and play with a lot of groups, so that's great for keeping up my skills fresh. I kind of treat music as a break from the demands of school and that way I can still be productive with it and still feel like I'm not just going all the time and overworking myself. But obviously sometimes it doesn't work out perfectly, but I just try to give it the best of an effort as I can," Geist said.

With such consistency and efficiency, Harper praised the flautist for her diligence.
"She has fantastic work ethic. She's probably one of the hardest working musicians that I have. I mean I have a number of really hard working people, and she is always on top of it and is ready to go for all of her rehearsals and performances," Harper said.
Geist's best friend, Alicia Chiang, expressed her pride for her many accomplishments with the flute.
"I was so proud of her and so excited. Ever since we've been friends, the flute was her passion, so watching her hard work lead her to these amazing opportunities is really something else. I never tell her good luck when she goes into an audition. I tell her she's worked hard for this and I know that will be what takes her to the next level," Chiang said.
As her love and vehemence for music continues, Geist wishes to eventually take the flute to the next level. Her motivation has only grown ever since she started playing in fifth grade.
"My goal is to continue doing honor bands throughout high school. Hopefully through these honor bands, I'll be able to gain some connections that could help me in my future. I'm definitely interested in pursuing that as a career if that's something that I can achieve. I have backup plans also, but we'll see how the connections can help me get into a career that I'm really excited about. [I would want to pursue] performance in a professional symphony but that's very competitive, so it could end up being more like composing or conduction; but hopefully performance," Geist said.
Her ultimate dream symphony is the New York Philharmonic.


by GRACE CHANG