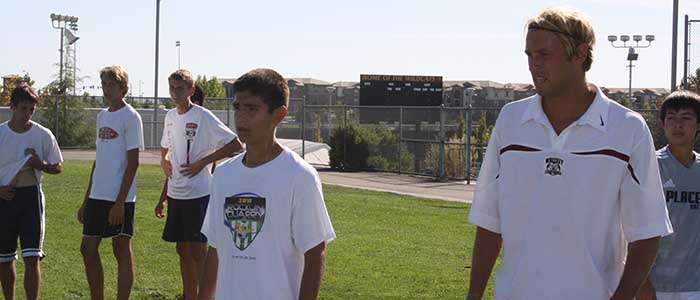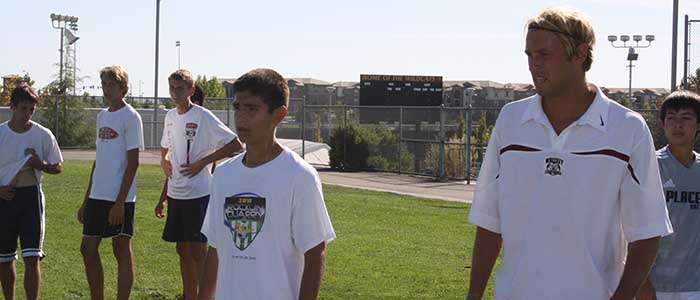 When people think of a makeover, they often associate it with getting their hair done, getting a new paint job on a car, or buying new clothes. No, the boys' varsity soccer team may not seem like a typical makeover candidate, but for new coach Mr. Salata, it's what he came here this year to accomplish.
"This year, we play some hard games, but I still think that we can do good in league," Salata said. "(The games) are usually pretty close, but we're building a lot, and that's my goal this year: to get better."
But for Salata to do that, he plans to build the team from the ground up, rather than  focusing on what the boys learned in the past.
"I've heard a lot about the old coach, but I don't talk about him. We're starting fresh," Salata said, "I told all the players at the beginning of the season that my goal is to make them all better soccer players, and to make them better people in the process."
And Salata knows personally the hard work and dedication that is needed for improvement at the sport, growing up and living the experiences of soccer for himself.
"I've played all my life. Since I was 5, every recording of me had me saying that I wanted to be a soccer player," Salata said, "I played at Chico State on a scholarship from Rocklin High, I coached for a year at a high school in Oroville, and now here I am."
Salata has laid out ambitious plans for the team this year, constantly keeping his eyes on the goals ahead for him and the players he coaches. He notes that, while they have had some early successes, he still wants to make sure his team can excel in post season.
"This year, we got our first trophy for Whitney High soccer. Kind of hard to see, and you might have to get down on your knees to get a good look at it, but we still want a bigger one," Salata said, "We do that by making the playoffs. I would like to progress to playoffs so that we're actually playing for something."
The coach also knows that he has a good team that has the ability to achieve those goals.
"Our back line is extremely good, we have some brilliant goal keepers, our mid is strong. We have some top forwards, some top defensemen, but we just have to focus on putting the ball in the back of the net. If we do that, we do very well," Salata said.
Players like Jacob Scott praise Salata's coaching style for helping them bring their game up to the varsity standard.
"He's pretty laid back, but he can definitely be strict with us when he needs to be. That's the definition of a good coach to us," Scott said, "He's also interactive with the players. He likes to be on the field playing with us during practice."
Salata notes that he needs to keep the team inspired if he wants to make the progress that he is searching for.
"I want to motivate and inspire them to be better players, and remind them that every game you have to give it literally everything you've got," Salata said, "There were some games I played when I was younger where I walked off the pitch thinking that I could've given five or 10 percent more. Telling them that will hopefully inspire them to do everything they can to walk out of this thing knowing we did the best we could and went as far as we could."
The new coach also wants to breathe new life into the soccer program for observers as well, hoping that he'll be able to drum up support for the soccer team to help recognize the work they put in throughout the season.
"Just come out and support. I know that other sports can be bigger here popularity wise, but everyone here is a Wildcat, and we need to support our teams," Salata said, "Every game, we wear the our jerseys to represent and fight for the Wildcats, no matter what."
And just as quickly as the words leave his mouth, he sprints to the middle of the field to join the group of varsity players standing there. He begins to scream and yell, filling the huddle and the audience with an energy that electrifies the previously stale atmosphere.
Byron Salata seems to change the definition of makeover into something more when he steps on the field, something far more than cosmetic.
by CARSEN VAN DER LINDEN