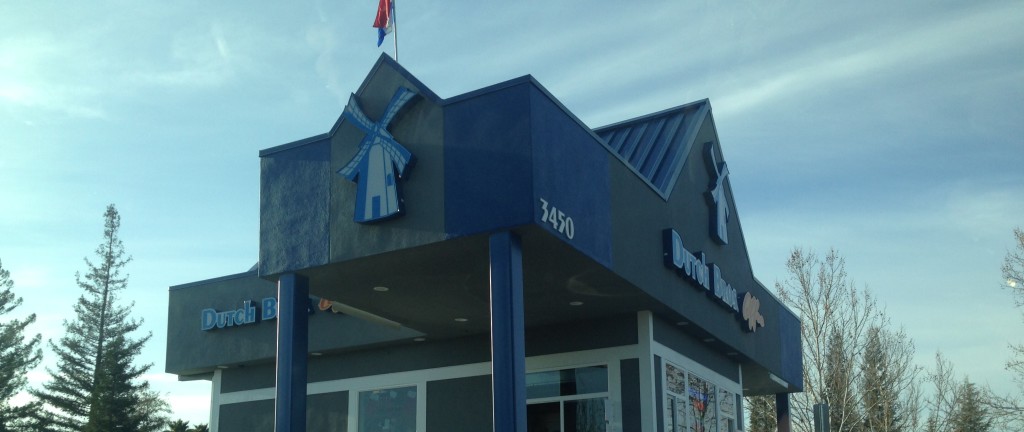 The most comforting winter treat is a steaming cup of peppermint mocha.  In the past, I depended on Starbucks for the sense of "cuddles in a cup," but recently, Dutch Brothers popped up down the street.  Since the drive thru coffee shop had opened, I heard nothing but positive comments about their drinks, so I wanted to give it a try.
I went on a Tuesday, and there were at least seven cars lined up at each window.  It took about 15 minutes until someone took our order and another five or so to get our drinks. The staff was very friendly, and similar to Starbucks, mostly college aged.  The girl at the window was quite cheery.  She even offered a treat to my dog who was sitting in the backseat.  Inside, the radio blasted.  Dutch Brothers seemed like a positive work environment.
With a conveniently simple yet flexible menu, I saw many drinks I would enjoy.  It being Christmas time, I ordered the seasonal Candy Cane mocha.  I admit, I do like my peppermint mochas to have strong chocolate and peppermint flavors with just a hint of coffee, and the Dutch brand was quite the opposite.  Needless to say, I gladly indulged myself with the hot, sweet drink, although I did not taste any "candy cane" whatsoever.  I also tried a sip of the iced coffee.  The Irish cream they use as a base for all of their drinks is very thick and might be too overbearing for some consumers.
The drinks were a bit overpriced at $3.50 for a small, $4 for a medium, and $4.75 for a large for the hot and blended drinks. However, they gave me a frequent customer stamp card: "Buy 10, get your 11 drink free!"  Every Tuesday, each drink is worth two stamps, commonly known as "Two- Stamp Tuesday".
Despite the long wait and high prices, I was impressed.  The staff seemed to enjoy their job,  which was reflected in their customer service,  and my drink was still quite a treat. If you have not yet, I encourage you to give Dutch Brothers a try.  I know I will be returning soon.
by SIERRA YOUNG