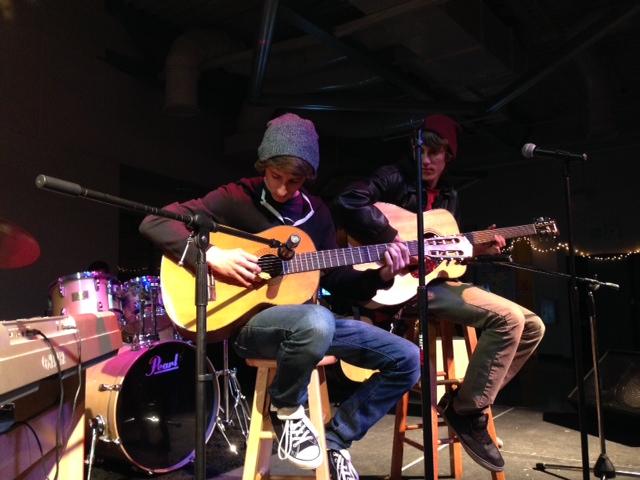 "Unplugged" showcased musical talents of all kinds in the cafeteria Dec. 11.
"We want all students to be involved in something, so this was something else to do instead of just a game or an athletic event. It's something that can include everyone, and what's better than an open mic night?" activities director Ms. Jennifer Yadon said.
It wasn't just students from this school participating; people from other areas of the community, such as those from Woodcreek, performed during the two-hour event as well.
Dutch Bros. provided coffee and Rebel energy drinks, and a few teachers oversaw the sale of Krispy Kreme and bagels. The junior class was also selling hot chocolate to raise money for their prom.
Pavan Sohal volunteered to be the emcee for the show, which was a role she didn't anticipate.
"I had a meeting with Yadon the day they were doing the sound check and she didn't have an emcee, and she wanted Joe La Russa to do it but he didn't want to, so she looked at me and I knew she was going to ask me, and I said yes," Sohal said. "It's nice that I get to talk and it's nice to get to introduce all these talented people because they're so good."
Among the performers were Emily Miller, Emily Nguyen and Nora Rabah. Rabah and Nguyen duetted to "Put Your Records On" by Corrine Bailey Rae, while Miller played her ukelele.
"I was really scared on stage. My heart was pounding and my voice was shaky. I got better as I went along but when I first got up there, it was terrorizing," Nguyen said.
Mixed within the singers, rappers and guitarists, Joe La Russa and Owen Descheemaeker performed a storytime session. The pair read "Green Eggs and Ham" by Dr. Seuss to the audience librarian-style, displaying the illustrations after reading what was on the page. Zach Provan sat on Descheemaeker's lap during the storytelling, stroking his hair as he read aloud with La Russa.
"I thought it was very entertaining and definitely a comedic relief that I needed; they're great," Ryan Monahan said.
The coffeehouse was considered a success by its organizers, and they are hoping to embed this event as one of the many annual traditions here.
Yadon said, "We are already talking about, depending on tonight, how it might work in the spring. I don't know if we'd wanna keep it once a year or maybe twice a year, but if it's bringing people here who otherwise wouldn't go to other events then that's the whole goal."
by KAVLEEN SINGH