'Happy Death Day' Kills it in Box Office, Earns $39.5 Million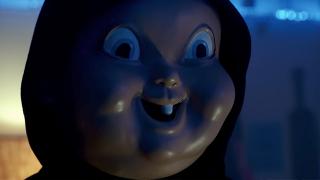 Hang on for a minute...we're trying to find some more stories you might like.
Imagine living the same day over and over again; being trapped in a never-ending cycle. Another day at school, with the same friends and same boring classes, but it seems all too familiar. It's almost as if you have lived through it before and you feel a sense of deja vu. To top it all off, imagine having to solve your own murder, and continue "dying" until you discover the person who would be motivated and crazy enough to kill you. Tree Gelbman, (Jessica Rothe) a self-centered college student, did exactly that in the Friday the 13th premiere of the movie "Happy Death Day," directed by Christopher Landon, all on her birthday.
The movie opens with Tree waking up in the college dorm room of fellow college student Carter (Israel Broussard) whom she had never met until a party that happened the night before, in which she was drunk and forgot everything. Throughout the day, Tree has to attend her sorority meeting and get ready for the next party that night.
On her way to the party, she walks through the dark college campus by herself and comes across a music box. She believes it is just a practical joke and calls for the jokester to come out. Then, a mysterious person wearing a black hoodie and the school mascot's mask (a baby face) stands at the end of the tunnel, which makes Tree nervous. Then, she realizes it may not be a friend and the masked person chases her down the tunnel until disappearing. While she begins to run away, the hooded figure jumps up in front of her and stabs her to death.
Throughout the span of the movie, Tree wakes up again and again in Carter's room, and repeating the same events, but it's not until the third day that she realizes she is living the same day over again, because she recognizes little things and predicts them before they happen, like a car alarm, or sprinklers.
After coming to the realization she is stuck in an endless loop, Tree comes to Carter for advice, and when he finally believes her, he suggests that the only way she will make it to the next day is if she finds out who her killer is and kills them.
Each day after, Tree compiles a list of possible killers and watches them to see if they were the one who could possibly want her dead until the real killer comes up and kills her, each time in a completely different and graphic way.
One unique aspect of the movie is that each time Tree dies, the killer has a different plan. Throughout the movie, she dies by drowning, explosions, a baseball bat and a gun to list only a few. But each time she starts to think she will make it through the night, her killer outwits her and finds a way to punish her.
Each time she wakes up, she becomes weaker and starts to feel symptoms from her previous deaths. She then realizes she won't have many more days to live, and she is running out of lives. This changes her perspective, and she starts treating people in her life better than before, reconnecting with her father, and becoming better friends with Carter, who she begins to have feelings for after realizing that he truly cares about her.
This thriller/drama/comedy definitely has a knack for keeping viewers on the edge of their seats, with a few comedic scenes to keep it more appealing to a larger audience. It also keeps you hopeful that anyone can change for the better, even a typical mean girl who was once careless.
The film is a classic whodunnit that keeps you questioning who would be dark enough to kill someone — multiple times, and gives you a sense of false hope whenever Tree believes she has finally discovered her murderer.
Rothe does a great job portraying Tree's character, the average college party girl with a sense of humor, but she also was able to reflect the modern take on women in horror movies as she becomes her own hero and is able to stand up to her killer.
For anyone who enjoys mysteries and horror movies, you would enjoy "Happy Death Day" because of its jump scares and gore.
If you like movies such as "The Purge," "Paranormal Activity" or "Get Out," you would enjoy this film, as they are all directed by Landon, who has a knack for creating eerie movies that keep your eyes glued to the big screen.
The most interesting aspect of the movie is that it holds a hidden moral within the story, and that is: be careful how you treat people, or they may just stab you in the back — literally.
by SIENNA EAGLE