About
Whitney Update is a publication created by students of Whitney High Student Media, the advanced publications program at Whitney High School. Our staff is composed of 26 students, including editors-in-chief Dylan de Valk, Chloe Prudhoe and Paulina Solorzano. Whitney High School is located in Rocklin, California, and we have around 1,900 students.
In addition to the stories posted here, you will find access to an online version of our news magazine, The Roar. The Roar was founded in 2005 as a tabloid newspaper in black and white. The original editors were Shelby Stanich and Samantha Vigil (Class of 2009). The Roar changed to a broadsheet newspaper with process color printing in 2009. In 2010, editors chose to switch to a news magazine format. The newsmagazine has shifted from monthly to quarterly and is printed through aPrintis in Pleasanton. Over the years, The Roar has placed nationally in NSPA's Best of Show contest, including two First Place wins, and has been recognized by the National Scholastic Press Association as a Pacemaker Finalist.
Our staff's goal is to tell the stories, positive or negative, of our school and publish a legacy while practicing good journalism. We want our readers to be informed, educated and entertained. We value and understand the importance of the media and the impact it has on the community. Please check in for the latest stories and updates; we'll always keep you posted.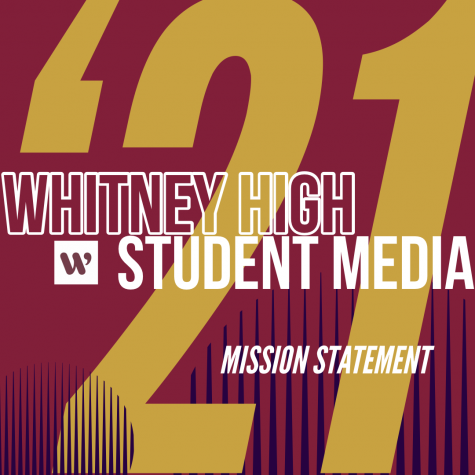 We produce Details yearbook, a 250+ page color publication entirely planned and produced by our student staff from cover to cover. Details is an NSPA Fall of Fame inductee and has been recognized often as a Pacemaker winner and Best of Show recipient from NSPA as well as a frequent Crown Award winner from the Columbia Scholastic Press Association. You can order the 2021 Details here.
Social media also is a big part of what we do. See more of our recent social media work in this portfolio. Follow us on Twitter and on Instagram at www.instagram.com/detailsyearbook (You can also find the most recent Twitter and Instagram feed on the homepage).
We don't post as often on Facebook, but we aim to reach parents, faculty, community members and alumni. Like us on Facebook at www.facebook.com/whitneyupdate.
We love to hear your feedback. Contact us at whitneyupdate [at] gmail.com.