Pinto Thai proves to be a hidden gem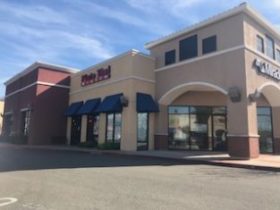 If you love authentic Thai food where service is fast and food tastes outstanding, you need to check out Pinto Thai.
Not many people know about this place due to its fairly hidden location and lack of advertising. It's located in Roseville and the address is 9700 Fairway Dr #100 and it's right across from Pancake House within that complex. The sign for the place isn't very visible when you're driving on Fairway Drive so you'd have to look closely.
My favorite time to come to Pinto Thai is when they have their lunch menu which is between 11 a.m. and 3 p.m. because you get a free salad with your order at that time. And unlike other Thai places I've been to which give you a complimentary salad, the salad at Pinto Thai is actually fresh and comes with honey mustard dressing drizzled over it. But you need to make sure to get there before 3 because the free salad is only served during lunch.
Their hours are a bit tricky though, from Monday through Thursday they close at 3 p.m. and don't open again until 4:30 p.m, which is when they start the dinner menu until 9 p.m. On the weekends and Friday however, they don't close in between and are open from 11 a.m. to 9 p.m.
One authentic drink you must try if you go there is the Thai Iced Tea. I've both moved around and traveled a lot so I've been to Thai places all over the world and their Thai Iced Tea is by far the best I have tasted anywhere. Most Thai places I've gone to either make it too sweet, too bitter, or just bland, but Pinto Thai literally makes it just right. The flavor is so well balanced and so good that you'll definitely want another one — which is great because they've got free refills!    
Most importantly, all the food I've tried at Pinto Thai tastes really good. My personal favorites are the Pad Thai, Panang Curry, and Red Curry with Salmon. I've been to a lot of Thai places where their Red Curry and Panang Curry disappointingly taste almost exactly the same, and I'm glad to say Pinto Thai isn't one of those places. The curries are all authentic in flavor and there is a distinct difference between the Red Curry and Panang curry in which they each contain different vegetables and a variety of seasonings. The amount you get for the price you pay is fair, for example $12.99 will get you a large rectangle plate of Pad Thai with noodles piled up on the plate. One thing I really appreciate is that unlike most places, Pinto Thai actually puts plenty of meat in the curry. The rice is also a good size but sometimes I need to order more just because there's so much curry. Also, rice is included with the curry during lunch. Although the lunch portion is smaller than the dinner portion, there's still more than enough and you may end up with leftovers.
The decor and style of the place is all very traditional and authentic to Thai culture. They have lots of large cultural paintings and decorations all over the place, as well as large windows and lots of space. The entrance to the kitchen is an archway, which I find to be very unique. And the entire restaurant is very well kept, I've noticed the waiters/waitresses clean the tables immediately after customers leave. The restrooms are well kept and the soap smells really nice. The overall vibe of the place is relaxing and cozy, especially when it's raining outside. I like how simple and peaceful it feels because there's always just the right amount of customers, never too many or too little. This creates a more personal environment for customers like me, who appreciate more attention and great, fast customer service.
Overall, I am completely in love with Pinto Thai. It never fails to impress me and I am proud to say it's my go-to Thai restaurant.