Local artists Seth Kaminsky and Josef Hanson describes their story inside their songs
Seth Kaminsky, a 24-year-old from Savannah, Georgia, moved to the Sacramento area to attend Thrive School where he was on a worship track. He also  teaches people drums and continues sharing his music. Josef Hanson, a 19-year-old from Fiddletown, California, also moved to Sacramento to keep pursuing music at Thrive School and grow in his faith. Both Hanson and Kaminsky lead worship at Bayside Church.
Hanson's and Kaminsky's passion for music didn't just start at the doors of Thrive. Kaminsky started as a drummer playing in bands that went nowhere. But through countless hours of dedication to music, he formed this drive to keep pursuing music and picked up the guitar and started writing songs. After discovering his true passion of creating songs that reflected honest and real feelings, he now expresses how God has truly shown him this passion.
"It was very much a God thing, and how He used my story as a piece to connect with others. I grew up in a broken home feeling very alone, and I would spend countless hours searching the web finding songs that hit me. While searching the web one day I found a band called Simple Plan and their songs. [The lyric] 'I'm just a kid and my life is a nightmare' was something I could related to and became my anthem," Kaminsky said.
From then on Kaminsky wanted to create something that let listeners now they are not alone, just how Simple Plan helped him through rough times. As he continues to grow through being a new songwriter he still faces insecurities, such as confidence. Seth describes how confidence has always been a struggle. Instead a lack of confidence hold him back he uses it as a driving force to keep pursing harder and uses experience throughout his life to inspire songs.
"On the lighter side I have a song called 'My Love' and it's probably the most recognized song at this point. I wrote it for my girlfriend because we were in a long distance relationship and I started writing it whenever she was having a rough day. I kinda just jotted down a chord and sent it to her to try and encourage her. And after that it all kinda snowballed and I managed to actually get it recorded and released it on our one year anniversary and it also was the first thing I released," Kaminsky said.
On the deeper side he has a song called "Collateral Damage" which deals with his past coming from a broken home, dealing with his parents divorce. The songs goes through the perspectives of his mom and one verse it talks about perspective from his dad and then overall it describes his inner turmoil of wrestling with that and just trying to figure out if he did something wrong.
The original reasoning behind his  five-song EP called Confidence was to release something that was a way for him come out with all his brokenness. Since he is typically known as a quiet guy he feels a lot of people don't know what he deals or wrestles with. So this was his way of being honest and up front acknowledging that it's something he deals with and it's who he is and he is embracing it.
"I want to encourage others to know we all have a story, we all have something that we are going through, instead of feeling like we have to hide it wouldn't it be so much better to know that it will be accepted and that we can just release it into the world and embrace it," Kaminsky said.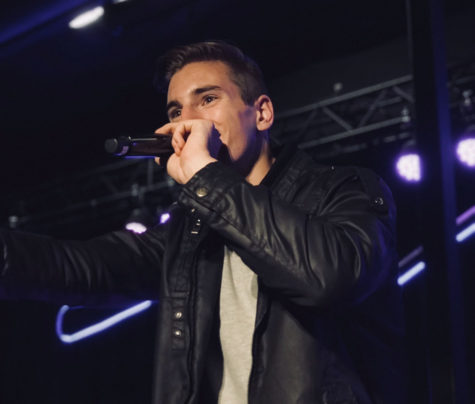 Jordan Irwin
However, for Hanson, his music career started when he was 5 years old and followed him through middle school and high school. His songs first started off as cheesy love songs. However when his life started hitting highs and lows, his songs shifted and started growing through his passion of real and vulnerable songs that people could connect to and not feel alone.
"My dad was the one who first taught me about music and it started off as an obligation and something that I did to make my dad proud. However, I started to realize I had this talent and I started shifting music from being just a thing to make my dad happy to now it's my form of expression and it's my own story," Hanson said.
April 8 Josef released his first EP, Matter Of Mind, which is a compilation of specific songs written as early as 7th grade that truly reveal his mind inside the album. All of his 13 songs have a variety of emotions; for example his song "50" is an apology to someone in his past making it very vulnerable. He also has sneaky love songs with hidden metaphors that only his friends can understand.  
Hanson's main focus is to let listeners know they are not the only ones who experience bad days and that it's okay to not always be happy as long as you don't dwell in it. Through his transparency of his songs of getting uncomfortably honest and vulnerable he wants to bring light for someone in the same situation.  
Both Hanson and Kaminsky agree that this is their passion and it's something they can never let go of. They really want to help others learn music and just truly go full force trying to make it big. Their definition of making it big wanting music to their one thing as well as being able to reach as many people as possible, inspire, create, and connect to everyone and anyone.
Check out both Seth and Josef's EP's on Apple Music and Spotify.