Thee reasons you need to watch 'Atlanta: Robbin' Season'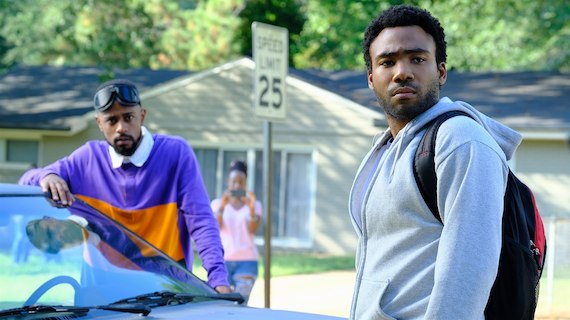 After a one-year hiatus, FX's two-time Emmy award-winning show "Atlanta" returned to television for the debut of season 2. Season 2's title, Robbin' Season, is based off of the common theme of the need for money during the Christmas season. The hit series, written and directed by Donald Glover, received much praise for its originality. Throughout the series, Glover drew inspiration from real-life experiences seen by growing up in the city itself.
The show stars Glover as Earnest Marks, a Princeton dropout who is living broke in his hometown: Atlanta, Georgia. Earnest, or Earn for short, receives his big break when his cousin, Alfred Miles (played by Brian Tyree Henry) makes it big in the rap game under the name of Paper Boi. Earn then seizes his opportunity and becomes his manager. Throughout the series, Earn feels like a failure due to the fact that he cannot manage his off-and-on relationship with his baby momma, Vanessa (played as Zazie Beetz) all the while struggling to manage Paper Boi.
The opening scene of the season premiere, Alligator Man, portrayed two unidentified men robbing a fast food chain. After the robbery scene, Alfred asks Earn to check up on Willy (who is presumably his father) due to the fact that Alfred himself is on house arrest. Throughout the remainder of the episode, Darius, played by Lakeith Stanfield, and Willy mention a character named "Florida Man," who is a reference to the unusual crimes headlined in Florida.
Here are three reasons you need to watch:
1: The music
The soundtrack on Atlanta is exponentially better than that of any other show on television. The diversity ranges from rap like Migos, Tay K and Rae Sremmurd to soul and jazz music from artists like Stevie Wonder.
2: It's very real
In an interview with Ellen, Glover was asked about his thought process when writing and creating Atlanta,
"I just wanted to show how it was to like grow up in Atlanta. It felt like, you know, I've always had these kinda weird feelings and it was like how do I exude that," Glover said.
3: It addresses relevant issues
In season one, Glover dedicated a whole episode to gender identification issues in an episode called "B.A.N." This season, he addresses racial issues and stereotypes. This can be seen in the episode "Money Bag Shawty" where Earn attempts to pay for things with a one hundred dollar bill but is denied based off of appearance.
All in all, if you're someone that enjoys dark humor and wants to know what it's like to live in Atlanta, this is the show that I would recommend you watch; after all, there is a reason it has won so many awards in its short existence.
by BLAKE WONG