Peer counselors host lunch for new students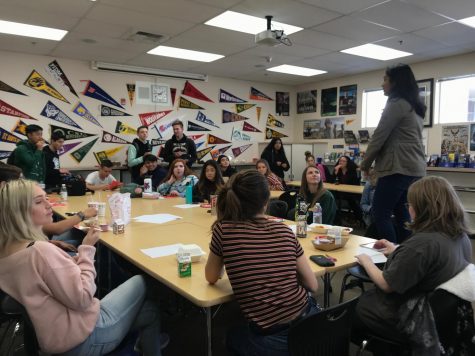 As a way to help new students feel connected on campus, the peer counselors started a New Student Luncheon
As a way to prepare, during their meetings every Thursday at intervention they talked about ways to provide the new students someone to talk to if they ever needed help with grades, friends and transitioning to a new school.
They also wanted to do something the school doesn't normally do, which is help new students find their place and create new friendships with some other new students.
"During one of our weekly peer counselor meetings, Thenu Kandiah and I had this idea that we remembered from middle school that we wanted to bring to Whitney. The idea was to gather all of the newest students that came later in the year to help them feel more welcome," Mason Pangman said.
They planned this event for weeks coming up with perfect invitations and how to make the students want to come and visit.
"The lunch party was a really good experience and made me feel welcomed in school," Alaina Rolleri said.
"It was a really fun way to meet a lot of new people, and it helped that we all got to bring our lunch and eat together," Tatum Dezorzi said.
The lunch took place on Dec. 13 in the College and Career Center common spot on campus, but the turnout was so much more than they anticipated, having over 30 students attend wanting them want to move it to an even bigger location next year.
The peer counselors plan to do one again in the spring for the second semester kids. They would like to make this event a tradition and to help new students in one of the hardest parts of transitioning to a new school.