Panic! At the Disco's new album is too tech to ignore, too good to forget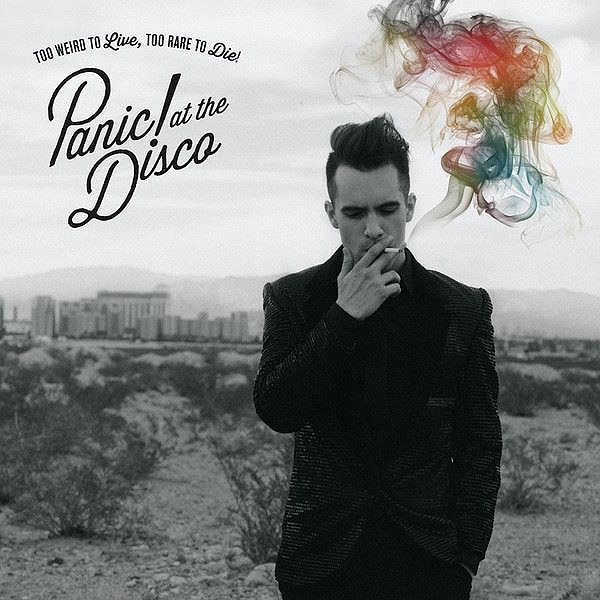 Panic! At the Disco's 4th studio album, "Too Weird To Live, Too Rare to Die", proves that rock music isn't restricted to guitars and drum sets. This three piece album, produced by Butch Walker, incorporates electronic beats which are relevant in each song. This album gives off an upbeat, expressional, and unexpected vibe that doesn't disappoint, but surprises. Classified as electronic rock, Panic! At the Disco's 32-minute, 10-song album is too tech to ignore, and too good to forget.
Their most popular song and first on this album, "This is Gospel" ties in the beat of a heart that literally makes your heart beat out of your chest. The song automatically became a hit when it was pre-released before the album, in August of this year. Lead vocalist Brendon Urie's harmonics and overlapping vocals in the song are obvious and add an overall sensation of expression and importance. The chorus, specifically the lyrics, "If you love me let me go. Cuz these words are knives and often leave scars. The fear of falling apart," are completely  empowering, but again, what else did we expect from Panic! At the Disco? This song definitely inspires each listener and fan to take the lyrics of "This is Gospel" and scream them at the top of your lungs.
The second song on this album tells a story of a girl too perfect to leave, and too sneaky to love, Miss Jackson. Released separately in July before the album released, Miss Jackson tells of the struggle of not being able to let a girl go that is definitely not good for you. With the incorporated voice talents of Lauren Pritchard, known as LOLO, the lyrics and beat sparks a fire in the listener's ears, making the song addictive the first time you listen to it.
The ninth song on the album, "Collar Full" is a song for those tech lovers who just fall into a catchy beat created by computers and electronic keyboards. For Panic!At the Disco, this song was definitely unexpected, compared to their past albums. But there you have it, "Collar Full" adapts the old expectations of this band from drums and bass guitars to electronic keyboards, repeating lyrics, and voice editing.
Every band has that song that sets your mind into a state of pure serenity. The last song on this too good to be true album, "The End of all Things," incorporates a beautiful piano harmony and melody, setting the stage for pure bliss. with lyrics like "Whether near or far, I am always yours," this song seeps down into the heart of listeners. This beautiful set up of piano and heart-felt words can set of a spark of emotion in anyone's hearts.
Though the band Panic!At the Disco has changed throughout their career, their new style of music has yet to disappoint. And though their new songs on this album have adapted their style, they will always be known for their outbursting heartfelt lyrics and their catchy beats. And though in some ways I miss their guitar based songs and drum solos, Panic! At the Disco's album Too Weird To Live, Too Rare to Die, is truly too tech to ignore, and too good to forget. You can buy this album now off of iTunes for $7.99.
by RACHEL MARQUARDT