Demi Lovato's new album 'Confident' gives fans an upbeat, powerful vibe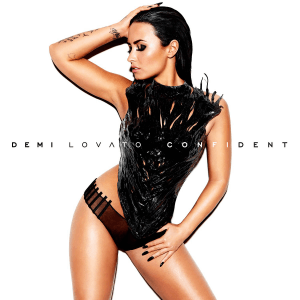 Lovato's voice is striking and smooth which makes her songs so enjoyable to listen to. She continues to create songs that create a fun atmosphere wherever you are.
Singer- songwriter- actress Demi Lovato released "Confident," her fifth studio album, on Oct. 16. The album costs $12.99 for the deluxe and $9.99 for the regular.
The deluxe album includes four extra songs such as "Stars" and "Cool for the Summer" remixes.
Her most popular song, "Cool for the Summer" released in July and fits the atmosphere and vibe that summer gives. It has a fast beat with catchy lyrics that makes it easy to love. Although I usually don't listen to music from the radio I will always keep it on when it comes on in my car.
Lovato's voice is so powerful and sharp it fits the title of her album "Confident;" you can tell that she was singing her heart out with all the songs featured in her album.
Another song, "Waiting for You (feat. Sirah)" has a slower beat but gives off a mysterious tone that makes you want to nod your head to it. This song describes how Lovato was treated wrongly by someone in her life and how she will never forget about it. The use of the lyrics, "You should know that I won't back down" reveals the confidence and power she has in herself and how she won't let people treat her poorly.
Only found in the deluxe album, the song, "Stars," talks about how anybody can be a star without the fame and fortune. She explains that no matter who you are, at the end of the day your opinion is the only thing matters and you can do whatever you want without having to worry about the opinions of others.
Lovato continues to create songs that encourage people to love themselves and to never settle for less. In her album, her songs are based on how she's leaving the irrelevant things behind and focusing on herself and making herself better.
The cover for her album shows Lovato looking sleek in an all black. Lovato looks striking and has a racy outlook showing that she doesn't care about others opinions. The theme of the album is to send a message that she's trying to find who she truly is and she encourages others to do the same for them and to say goodbye to things that don't matter and to embrace the important aspects of life.
I would definitely recommend this album to anyone who is having a bad day because it definitely boosted my confidence. Most of the songs are fast, which puts you into a happier and upbeat mood.
by MISSIE CARACUT