Isabelle Wheeler plays a main role in 'Emma' with a broken leg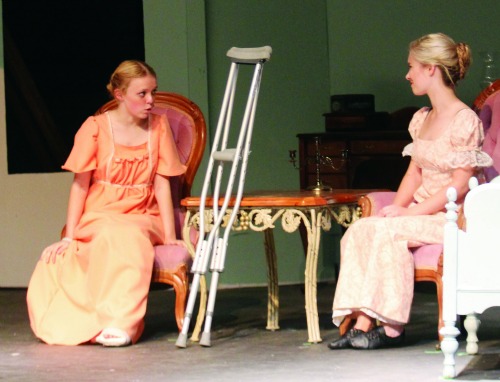 Isabelle Wheeler broke her leg playing human hungry hungry hippos at church on Oct. 13. This was a serious problem because she was to play Harriet Smith, a key role in "Emma," the fall play.
When she came to school injured, director Mrs. Julie Hilliker walked up to her.
"The next day, I went into my theatre classroom, and [Mrs.] Hilliker took me by the shoulders and she said 'even if you're on crutches I'll still let you be in the play,'" Wheeler said.
The theater program now must navigate around the injury. Wheeler will hopefully be well enough to wear a boot instead of crutches during the final production. Scenes needed to be changed blocking-wise because of the injury so she moved around as little as possible.
Everyone has been supporting Wheeler through her injury.
"All the support I've been getting from the cast, everyone is just reaching out to me, I'm really grateful for all the support everyone's been giving me,"  Wheeler said.
Accessibility for Wheeler to move around on the stage with her crutches hasn't become too much of a hassle, but for Lindsay Olsen, stage manager for the play, it has been difficult to come up with a solution to the situation at hand.
"I'm not sure exactly what we're gonna do yet. We haven't really come up with an answer…She doesn't need a whole lot of extra help getting around on her crutches. However, at practices, people help by taking her spot when walking and propping up her foot whenever she's sitting. The props in the play all involve sitting or standing, so they haven't been adapted a whole lot," Said Olsen.
Hilliker was not very affected by Wheeler's injury, and they found ways to work with her while preparing for opening night.
"Whether it is on crutches or a cane and we will make it work. We just help her when she needs help. In rehearsals some else has been blocking for her, but other than that we don't necessarily need to change anything because she is not going to walk up stairs or anything," Hilliker said.
The only thing that is different from the original script is that Wheeler might have to have her crutches on stage with her, although it does not fit the time period. Hilliker isn't worried, though. The only thing Hilliker is worried about during the show is the possibility that Wheeler might fall during the performance.
"There are times where [she has to] sit or stand and there are times where she is supposed to sit on the ground, so that might be difficult, but everyone in the cast has been great," Hilliker said.
Hilliker thinks that the show will be a success.
Hilliker said, "I think the show is going to be great. Isabelle has been working really hard and as has everybody, so I think it will be fine."
by MADISON HUCKABAY, ONA IGBINEDION, RACHEL LARSON AND CHRISTINA VASILENKO