Adele's new sound in '25' says hello to the music world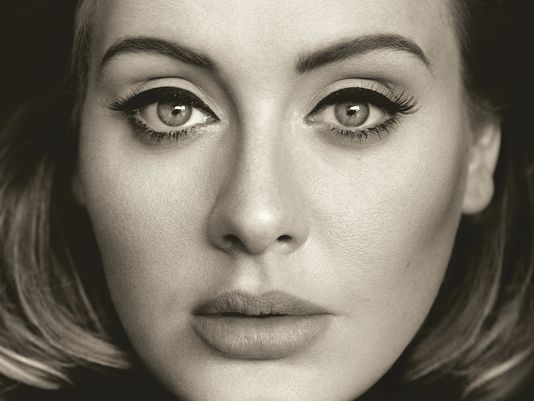 Hello, it's Adele. Yes, after five years Adele has finally released her album and it's already at number one in the United States. The album "25" was released on October 23, and had sold over three million copies in less than one week.
Before "25" Adele had released two other albums, "19" and "21". These were also best sellers and were popular around the world. However, she took a break to have a baby and surprisingly released "Hello".
The album starts off with Adele's recently most popular song that debuted at number one. "Hello" has a soft, piano background while Adele's beautiful vocals sing lyrics that have listeners in a debate about if she is singing to her ex lover or herself.
"Send My Love (To Your New Lover)" is the next song containing more powerful lyrics. Adele sings about her lover and herself must let go. These lyrics are paired with an acoustic guitar.  This gives Adele a fresh and new sound, making her fit into the modern day sound of music.
Contrasting the last two songs of saying goodbye to her lovers, the next two songs on Adele's album bring back the sound she is known for. Strong drum beats and piano riffs in the songs "I Miss You" and "When We Were Young" remind listeners of her last album because of the sound her lyrics are paired with. The lyrics speak powerfully to her audience and bring back the sad tone Adele is so often singing.
Adele sings a song different than she has ever wrote. "Remedy" talks about how Adele will be there when her special someone needs her, since she has needed them so often. This is the shortest song in the album, however I think it is the most meaningful.
"Water Under The Bridge" features more drums and Adele's powerful vocals. In this we hear her sing about how she doesn't want the person she loves to say that their love is in the past.
The next to songs in the album sound like all the rest of Adele's previous songs. "River Lea" and "Love In The Dark" both talk about how Adele is sorry about what she did in past relationships and how she can not be saved anymore to fix her ways.
Adding another song with her new sound of an acoustic guitar, "Million Years Ago" shows Adele's regret from her past. She sings about how she wishes ways were how they used to be, but they can't because it was to long ago.
"All I Ask" is when we hear Adele ask for more than just friendship for the night and "Sweetest Devotion" may be her way of showing that she got what she wanted. In this song she sings about how the love she receives is too strong.
In the Target Deluxe album "25", buyers receive three bonus tracks titled "Can't Let Go", "Lay Me Down", and "Why Do You Love Me". These songs are only available on CD's and make Adele's album even better. These add more fresh new sounds and please the listeners with more music containing Adele's new songs.
Adele's new album "25" can be bought for 10.99 for a regular album and 12.99 for a deluxe.
by AVA JEUNG