Women's freshman soccer Defeat Antelope 8-0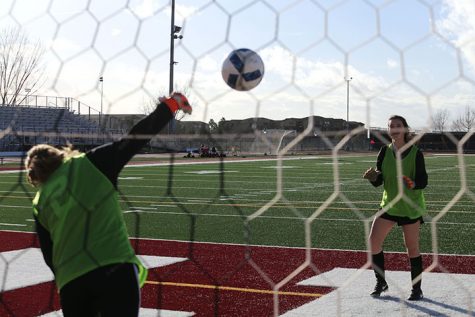 The women's freshman soccer team completed an 8-0 shutout against Antelope at home Jan.19.
    In the first half, the team possessed the ball the majority of the time, passing the ball from teammate to teammate working down from the offense, through the midfield, to the backline. The defense strategically kept possession of the ball by passing it through the backline from one end to the other thus enabling the final defender who receives it to pass the ball to their parallel offensive wingman. The wing had chance from there to take the ball down the sideline and cross it creating an opportunity to strike.
    However during the second half, the lineup completely changed where the offensive players took on defensive roles and vice versa. As the half strung on, the Wildcats started to use simpler strategies in order to create more offensive opportunities. While still keeping possession of the ball Whitney's defense popped the ball over the midfielders' and strikers' heads landing in front of the offense thus triggering an arms race against the strikers and the titan's defense.
    "What really made us successful this game is that our team is really good at receiving the ball and connecting passes. Our main strategy that I think got us the win was sending through balls that split the defense so our offense can shoot," defender Emma Tataro said.
    Tataro believes the secret to the team's success is the bond they have formed on and off the field.
     "All of us being best friends is what makes us such a good team. While it really strengthens our communication, it makes us more cohesive on the field and makes the mistakes that we make more bearable because everyone is so forgiving. When we're on the field, it's such a comfortable environment because everyone on the team has your back," Tataro said.
     The Cats' record is 5-4-1 and their next game is Feb. 2 at Oakmont.