Students and teachers react to released AP exam scores
Two months ago, thousands of high school students across the country finished their school year off with what they had been preparing in class almost an entire year for — AP, or Advanced Placement exams. These exams are administered from early to mid May, and include courses such as AP Biology, AP Calculus, AP World History and even 25 more. Students enrolled in these courses then had to wait until July for their final test scores to be released depending on where they live.
For California students, the very first AP exam scores were released at 5 a.m. July 5. One test taker who pulled an all-nighter anticipating her scores was Maddie Papenfuss, who took AP Biology, AP U.S. History and AP Psychology.
"I studied a lot for Psychology, and earned a 5, so I feel that I worked for that score. With other classes, like Biology, I 100 percent believed that I was going to fail, so my score of a 4 shocked me," Papenfuss said.
Papenfuss also explained how some of the tests were a lot easier than she had expected, but that she had wished she had prepared differently.
"I used the prep book for all of the classes and went to many review sessions, which definitely helped, but I do wish that I had started studying earlier," Papenfuss said.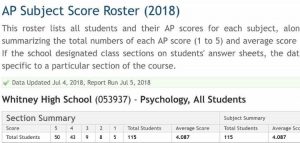 This year, specifically for Mr. Jason Knowles' AP Psychology class, out of 115 test takers, the average score was a 4.087 out of 5. Based on this score, most students had performed above average in the 4-5 range.
Results for the exams not only surprised students like Papenfuss, but teachers such as AP World History teacher Mrs. Leah Seabrook were impressed as well and expressed opinions on social media.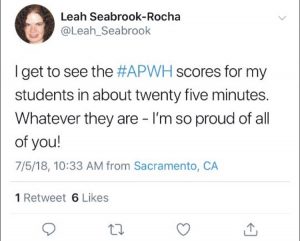 "I can't even put into words how proud I was the moment I opened the exam scores. They confirmed what I already knew: our Wildcats are excellent scholars. We beat the national passing average by a large margin," Seabrook said.
Seabrook also reflected on the school year as a whole and just how prepared she knew her students already were after a year of learning new material.
"I want them to know that when most other people see the FRQs they look at them and simply say 'I couldn't answer that.' That's the big takeaway. You have proven that you can succeed in a college level course. That's the power of the challenge," Seabrook said.
Scores will continue to be released all throughout this week and students can check theirs on the College Board website using their login info. These scores can also be sent to specific colleges and students with a passing score of 3 on an exam can receive college credit and avoid taking the course in the future.
by SIENNA EAGLE