Voter's guide to RUSD elections
When are the elections?
Nov. 6
Who can vote?
Registered California voters at least 18 years of age
Why should students care?
The student body is directly affected by the election of new board members, since their job description includes hiring and firing teachers. They are also able to discontinue or further implement safety codes and regulations. The entire school district's budget is controlled by them, meaning make all financial/budgetary decisions and choose what programs to spend money on.
Who are the candidates?
This year's candidates include Susan Halldin, a resident of Rocklin for 19 years, has been on the school board since 2014, and has two children  attending this school. She is also supported by both the RTPA and the Mayor of Rocklin, Ken Broadway.
The second nominee is Mark Klang, a Rocklin resident of 29 years, with a degree in political science. Klang has previously been apart of the U.S. Air Force as a Lieutenant, and has served on the school board from 2000-2004. He also has two daughters, one attending RHS and the other graduated.
The third candidate is Dereck Counter, who is also supported by both the Mayor and RTPA. He also has a daughter and a son who are in the Rocklin School District. He supports growth and improvement for the STEM programs in the Rocklin schools.
The next candidate, Rick Miller, has two sons in the Rocklin Unified School District, has worked with the U.S. Department of Education and become a State Deputy Superintendent. He is also supported by the Mayor.
The last candidate, Tami Siegal, has two children at Cobblestone Elementary and is endorsed by the RTPA. She holds a degree in political science from U.C. Berkeley and is currently the Site Council President at Cobblestone Elementary.
A public forum will be hosted at Rocklin High School Oct. 29, where community members will be able to ask questions and hear from all of the candidates. We will be streaming this event through Facebook Live and have it available to re-watch on our Instagram IGTV.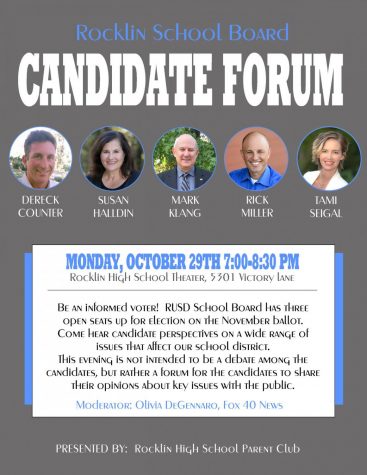 by EMMA ACCACIAN, SIENNA EAGLE & ANJANI KEDIA