13 new staff members answer one question
Whitney High Student Media asked the school's newest counselors, teachers and clerks one single question: why do they do what they do? From an incident with a past teacher to a passion for coaching, every individual has their own reason and purpose for being here.
Ms. Desiree English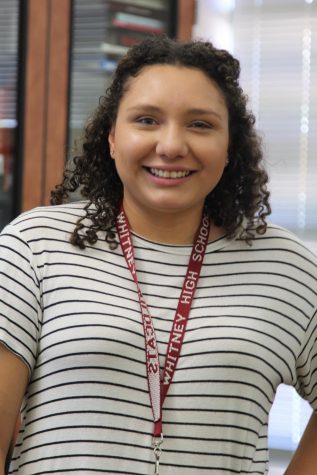 English is a biology teacher, and her passion for the job stemmed from her high school teachers who she considered both her life and education mentors.
"When it became time for me to decide what I wanted to do with my life, they were my role models; they were my gold standard. That's why I wanted to get into education — to help students learn that science isn't scary and it could be fun with the right teacher. I [also want to] give them the opportunity to have an adult to be there for them on campus," English said.
When she had issues at home, one specific teacher even approached and comforted her.
"I remember distinctly walking in, super upset. My teacher was like, 'Hey, how are you doing?' And I'm like 'Oh, you're asking me how I'm doing?' I thought I was in trouble for something, like did I not do good on my last homework? And she's like, 'You look like you need a hug.' She gave me the biggest hug and it was so comforting. That started off a long standing relationship with her — we're actually still friends. She was my freshman year bio teacher, and when I got hired here, she called me. She was like 'Oh my gosh! I heard you got a job! How's it going?'" English said.
Ms. Sada Dewey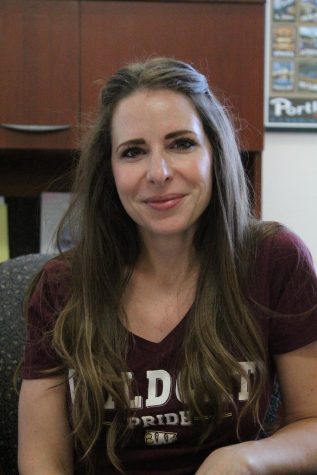 Dewey, counselor for E-K last names, has six years of experience in the field. Her personal high school experience impacted her decision to choose school counseling.
"[It] wasn't always ideal; I enjoyed high school, but there were not the support people that I would've loved to have. High school's a hard time, as you know. You guys are living it everyday. My high school counselor wasn't as supportive as I'd hoped for. It would've been nice to have someone at school problem solve and [help me] work through the problem," Dewey said.
Because of a conflict with her Shakespeare Literature teacher in senior year, she didn't have anyone to talk to at school other than friends and family. 
"It was right before November when we started applying for college, and me being a first generation college student, I had no idea what to do. So I thought, 'Okay, I can do this. We'll figure it out.' Little did I know, the teacher of that class already had an opinion of what I was going to do. She was coming around, passing out [paper] UC applications to everyone. She gets to my table, and she says, 'Oh, you know, Sada. I forgot to bring you the junior college application. I will come back to you.' She passes me by, and doesn't even offer me a UC application; doesn't even give me a chance. She didn't even really know me; she [didn't] know what was below the tip of the iceberg, just the very surface. I'd never disrespected a teacher by leaving their class, but that day, I needed to leave. I showed her; I did go to junior college, and that was the best decision I ever made," Dewey said.
Mr. James Housley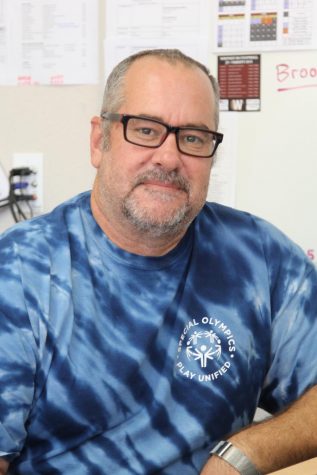 Housley is the ILS teacher, and he was driven to follow the footsteps of his former teachers. 
"When I was younger, I was lucky to have a couple of caring teachers that inspired me to enter the profession. I teach because I care and I want to inspire my students to perform to the best of their abilities," Housley said.
Mr. Matthew Strinden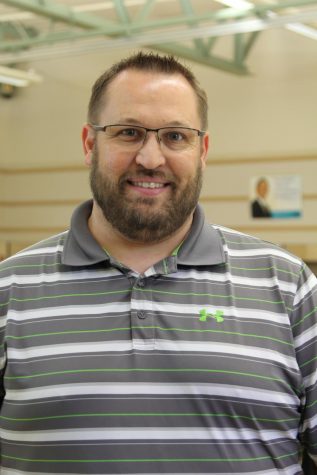 Strinden teaches computer science I, II and AP Computer Science Principles. Previously, he taught computer science at Spring View Middle School. 
"Primarily, I teach because I enjoy working with kids; I always have, so I teach and coach. I've coached probably longer than I've taught. I have a passion for helping people develop a [liking] for lifelong learning. I always try to grow and get better, so the mission here at Whitney ties in for me, [including] passion and purpose," Strinden said. 
He recalls the moment when he received his first "thank you" card from a student.
"[A special instance] that comes to mind was early in my teaching career. I had been teaching for maybe five or six years, maybe a little bit longer. It was the first time I received a letter from a student about why they loved being in my class and how I helped them make some decisions with what they wanted to do with the future. As teachers, it's always fun to hear from former students about how you inspired them to do something," Strinden said.
Ms. Elizabeth Lloyd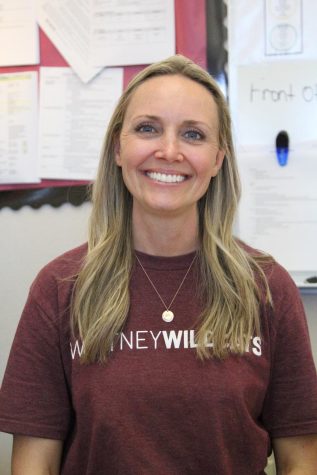 Lloyd is an instructor for both Language Arts II and III. Her primary motivation to teach derives from her students – she wants each of them to be ready for life. 
"I teach because I want to help prepare my students for life after college. This includes academic readiness, social awareness and emotional well being. I truly hope my students leave me at the end of the year, more prepared to take on their world," Lloyd said. 
Ms. Lori Johnstone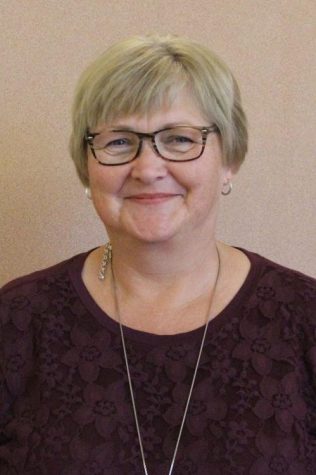 Johnstone has been working as a school secretary since 2009. After traveling and working in multiple cities for 10 years, she ultimately chose Rocklin.
"I was excited to work for the district of Rocklin because the city has such a good reputation. I have four children and I needed a job that worked with their school schedule, so that's what I started doing 10 or more years ago. [Whitney] is great; everybody is super friendly and it's a beautiful school and lots of school spirit. I'm a grad at UC Berkeley, I'm a big Bears fan, and go blue and gold!" Johnstone said.
Mr. Scott Seffens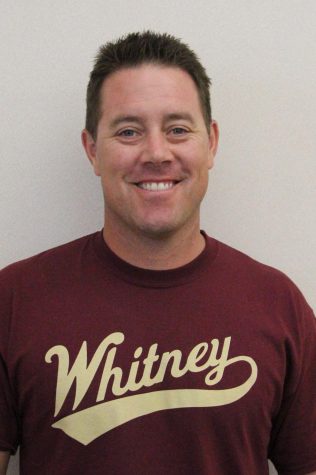 Having 20 years of experience, Seffens, the Integrated Math I and II teacher, discovered his liking for teaching while helping people with math in college. In addition, he also knew he wanted to pursue coaching.
"[The way to coach] all the time was to be a teacher and coach at a high school. So, I was the varsity baseball coach for the last 19 years coming from Vista De Lago. I was there the last 11 years. I was at River City in West Sac for six years, then Folsom for two years and Vista Del Lago for 11. The most rewarding thing about teaching is dealing with kids like Reggie over there by far. He's going to hate me for a while but hopefully one day [he] comes around. Like right now, he's frustrated, mad and things like that but hopefully we'll work that out. He's a nice, happy kid," Seffens said. 
Major Jennifer Pearl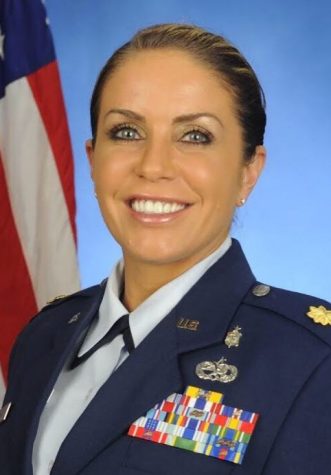 As the new ROTC instructor, Pearl wishes to bring out specific traits within each cadet.
"[I teach] to help develop quality citizens that are entering the workforce, so they can be good members and productive members of society. I value integrity and the willingness to learn. In our core, we have to have the initiative and attention to details, so those are the qualities that we look forward to in cadets. [The cadets] are ready and eager to learn and to participate; that's what I like most about this program," Pearl said.
Furthermore, Pearl hopes for students to better understand the true purpose of ROTC.
"Don't let the uniform scare you, I'm sure people have their own idea about what ROTC is about, but honestly what we're here [for] is to develop leaders. Whatever we can do to help the students to enlist in the military or to become an entrepreneur. Whatever it is they want to do, it's our goal to make them successful. Just not to shy away from ROTC because of what they think they know or what they think the program is about," Pearl said. 
Ms. Emily Miyaoka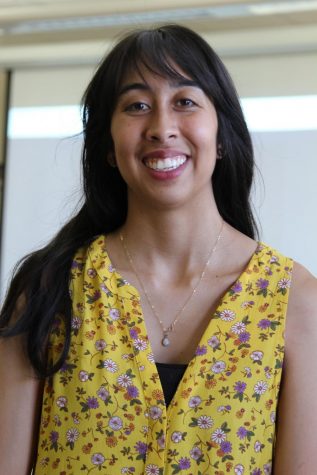 Miyaoka is the instructor for the new foreign language class, American Sign Language. Growing up in an environment where interpreters were the norm, she fell in love with the language and decided to pursue it as a profession.
"I went to a high school that had a huge deaf and hard of hearing (DHH) program, which meant that there [was] a large population of DHH students on campus. I became friends with the DHH kids and it kind of forced me to catch on very quickly. I had a hard of hearing person in my English class one year, and she was always signing with me the whole class. She would not slow down for me. She did help me a lot but it forced me to catch on, so I did. I started hanging out with the deaf people at lunch sometimes, and I started signing with my hearing friends and they would take the classes with me; so it was awesome. It was almost like our own little language that we got to use," Miyaoka said.
Read more about Miyaoka's new class here.
Ms. Nicole Palmer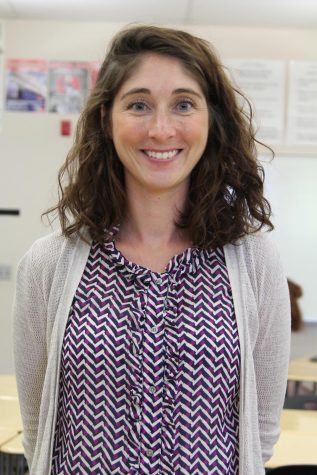 Palmer, who teaches both world history and AP World History, aims to create a space for students where they can fully express themselves.
"I teach because I want to give a lot of our students a safe place to go to be themselves and get to know who they are as individuals, so they can form their own opinions and their own voice," Palmer said.
Ms. Miranda Lemburg
As a special services teacher, Lemberg enjoys the excitement of teaching several subjects and seeing her students grow as students and adults.
"[I love] building a connection with students. When I moved away, I had kids mail me care packages like a bag of Takis. They still send me postcards, or I send them postcards, because they travel now too since they have been graduated a few years. Long lasting connections are a great thing to see, [as well as seeing] them as adults," Lemburg said.
Although she is a native of Roseville and Rocklin, Lemburg taught outside of the country for a period of time.
"I taught in Beijing for two years, and I taught English as a second language. So when my kids sent me Takis they sent it all the way to Asia, and they got postcards from all over Asia when I traveled," Lemburg said. 
Ms. Ali Goodrich
Goodrich, who is also the school's first alumni teacher, teaches language arts. She obtained both her bachelor's and master's degrees at William Jessup University.
"I had some amazing teachers and mentors that pushed me to pursue my passions while I was in school. Without those people to guide me, I don't think that I would be here today. I teach because I want to encourage my students to pursue their dreams and help them find ways to achieve those goals. The most rewarding part of teaching is seeing my students grow throughout the year. I love being back at Whitney; I transferred into Whitney as a junior in high school, and my new teachers helped me feel like I belonged here. Coming back to Whitney, I still feel that sense of community and want to share that with my students," Goodrich said.
Ms. Rachel Holm
Previously teaching at Spring View Middle School, this is Holm's second year of working in the district. She teaches PE I and Sports Medicine. 
"I love just being around people, and I really enjoy actually teaching physical education. That's one of the things that I am really passionate about. So I teach because I want people to learn how to live healthy happy lives, and I want to be a great mentor to people, my students, my co-workers. [The most rewarding thing is] just seeing kids succeed and just seeing them be proud of themselves and succeeding in my class," Holm said.
by GRACE CHANG, BIANCA COWLES, MAELANI ESTEPA & NIKA MORADA