Underclassmen rise to varsity-level teams
For freshman athletes, it can be extra difficult to start high school while balancing a varsity sport. 
Kara Brent is the only freshman on the varsity cheer team. She has spent her summer practicing with her new team and also went away for a cheer camp in Tahoe. With all the practice Brent has been preparing on performing her best in all the rallies, football games and any other school activities. She is looking forward to bonding more with all of her teammates and showing everyone that even though she is the only freshman on the team this year she's determined to try her best during the season. 
"I hope that everyone will treat me the same. I don't want anyone to expect less of me just because I'm young. I want to be treated like a teammate and if I'm on their team I have to be able to keep up with them," Brent said.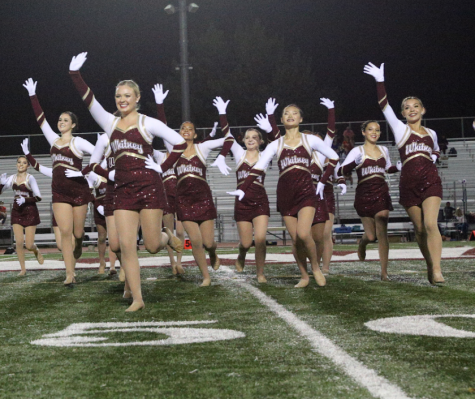 Hallie Merin is one of four freshmen on the dance team this year.
"I enjoy dance team because it gives me a way to show school spirit and become really close with my team… it also gives me the opportunity to meet so many people from other grades that I probably would not have never meet," Merin said.
Merin started dancing five and a half years ago, but her past teams have always been focused on competitions. Even though her previous dance teams required many practices, this is her first time experiencing before school and after school practices and dedicating more time to dance in make sure they are ready for all football games or other school events. 
"It takes a lot of time management, so I really have to make sure I'm not hanging out with friends until I have all my stuff done. I try to work at school, during lunch or go to studies and things like that but I still try to make time for other things so on weekends or Fridays I like to make time for friends," Merin said. 
Divya Janarthanan is starting her freshman year on the women's varsity tennis team.
"I have a passion for tennis because my brother did it, and I want to be just like him.I am hoping I can get a scholarship to places like UC Berkeley," Janarthanan said.
Janarthanan has been playing tennis for seven years, but this is her first time being on a team. Currently, Janarthanan is ranked sixth in the ladder and is a starting player for singles. 
The ladder ranks everyone from the entire team, but only the top 12 play in matches. The very best 6 play singles, however Janarthanan is hoping to be able to improve and climb the ladder to higher ranks such as spot two or three. Tennis takes up a lot of Janarthanan's day, so she gets home around six every night and finds methods to manage both high school and sports.
"It is kind of difficult getting home at 6 every night, but I just try to use time wisely and only focus on homework before anything else," Janarthanan said.
As a freshman, Janarthanan was worried about joining her first team; especially a high school team. Now, she is excited to continue the season.
"Being on a high school team is a lot nicer than I had expected because they all welcomed me and make me feel comfortable and ready and excited for all out matches this season," Janarthanan said.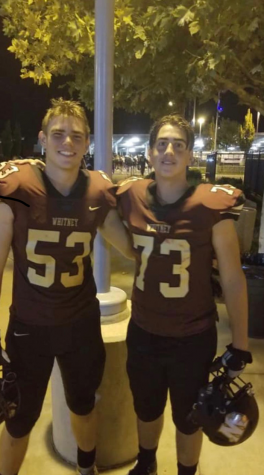 While there are no freshman playing for the varsity football team, there are a few sophomores. Noah Garcia has been playing football for four years and is only in tenth grade. He got called up right before the preseason to play for varsity for the first game against Paraclete. His performance was impressive enough to stay on varsity likely for the rest of the season.
"The moment I was called on to varsity, I was very excited because I got the opportunity to play with all the seniors who are leaving this year. Also I was blessed to get the opportunity of a lifetime to play on such a high level at such a young age," Garcia said.
What makes this very impressive is because he is playing varsity as a lineman (the most physically grueling position in the sport). In the interview, Garcia highlights the difference between how varsity and JV competes. 
"The way we run our plays and the way we execute them are way different. The opponents are much stronger and bigger so it is harder to battle them. But playing with them is a great to get better," Garcia said.
Even though the challenge of playing with varsity may have been overwhelming for most, Garcia makes the best of it by keeping his attention towards his priorities.
"My personal goals for this year is to start the whole entire year and win all of our games. Me and my brothers have been working out and training for this season since November of 2018," Garcia said.
Playing for varsity has been Noah's dream but he will miss "playing with [his] brothers from freshman year". Though that does not concern him too much because he will reunite with them next season.
Next time you are free on a Friday night, come check out a Whitney football game. And look for number 73 on the field.
by CONNOR EATON, AAZAM KHAN, CHLOE PRUDHOE & KARIS WEISS