College fair brings 80 schools to inform students in a 3-hour event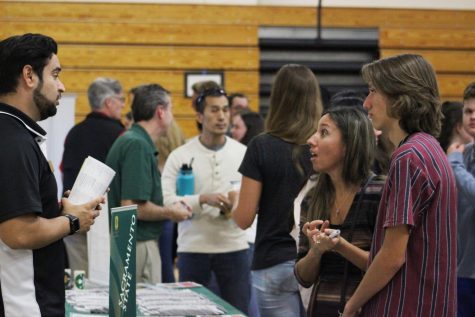 Eighty colleges, representing University of California schools, cosmetology programs and military recruiters hosted booths on campus Oct. 4 at the college fair. High school students from other schools were able to attend and talk to college representatives to learn a broad range of information on each college, including academics, campus life and any concerns or questions they had. Other students found the night repetitive and thought colleges did not bring any new information. The event rotates between Whitney and Rocklin each year. 
Some prospective students found themselves benefiting from the exposed to new opportunities.
 "I went to the college fair to see the opportunities I can get at certain colleges. I hoped to gain a better understanding of where I am going after high school by seeing the faults in certain colleges but then the benefits in others. I talked to the Cal Poly representative about their graphic design program and was able to learn more of their  Associate Degree for Transfer program with Sierra College, which was helpful," Nathan Marquardt said.
However, some seniors thought the college fair had nothing new for them as they began college applications. "I went to see if there were any schools that I've applied to, especially the private colleges I can't tour as some are on the east coast, or to get information on new ones I haven't seen before. It didn't benefit me because I've been to all the UCs I am applying to, so I already knew everything they could tell me," Brooke Giorgi said. 
Regardless, juniors exploring the realm of college and deciding where to go found the night as a great chance to see what schools have to offer in terms of their interests. 
Sadie Turner said, "I wanted to learn about all colleges and what they offer. I was hoping to find places that offer classes in child development and education and it benefited me because I was able to learn about colleges out of state. It made me more comfortable to think about my future in college." 
by HANNAH EAGLE AND KATERINA LOMBA