Varsity football team returns to playoffs after three years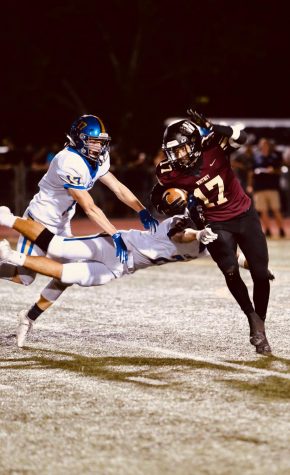 In a rapid turnaround from the 2018-2019 season, the varsity football team is making an appearance under the glowing lights of Lincoln's stadium Nov.8, at 7 p.m for the first round of playoff action.
"We struggled with both our offense and defense the last time we played Lincoln. We took them lightly and as a result, were defeated," wide receiver and cornerback Bryce Rufin said. 
According to varsity head coach Mr. Zac McNally, the team has focused on correcting seemingly minor, yet decisive aspects of their plays in preparation for the playoff game.
"Since we had various penalties last game and struggled with lining up right, [Coach McNally] has minimized this by punishing us with drills on the field when they occur. Through repetitive practice, Coach McNally makes sure we're dialed in," linebacker Austin Hauptman said. 
After experiencing a season of losses and discouragement last year in the shift to a tougher conference, Hauptman and Rufin explained how the team agreed that they would not feel the hopelessness ever again. They highlighted how the team and McNally are determined to avoid the mistakes made in previous games, bringing the varsity team back to its ferocity through vigorous training.
"Every penalty yard that we had, the team had to perform up-downs where they dropped down to the ground and jumped back up. No stone will be left unturned for this meeting with Lincoln. The guys are trying to stay healthy and execute [their plays] well. That'll be our key to victory," McNally said. 
Despite being in the Division 3 playoffs before, the upcoming game will be the Wildcats' first SFL playoff appearance since 2016. Wide receiver and defensive back Dom Spence delivered an overtime win against Del Oro on Sept. 27 after turning the corner and scoring on a 12-yard run, serving as the Wildcat's first SFL victory. The Wildcats won 30-27. According to Mr. Jason Feuerbach, this was a major turning point for the athletes.
"
This group of athletes want to establish their own legacy and get Whitney Football back on track as being a team that puts forth extraordinary effort, physicality, and executes in all aspects of the game.
— Athletic Director Jason Feuerbach
"We have learned to adapt to different situations during the game. I expect this game to be very long and physically exhausting because Lincoln is not very flashy, but they are well-coached. They will wait for us to make a mistake and capitalize," linebacker Andre Nolan-White said.
Now that the team understands their opponents, Nolan-White said that they look to overcome their previous loss to the Zebras. 
"If we clean it up and play how we have in our most recent games this season, we will be successful," Hauptman said. 
Having not won a playoff game since 2012, Rufin said, "The Wildcats bear a serious mentality towards Friday's match, hoping to dominate each and every aspect of the game."