Discipline techs make an impact on campus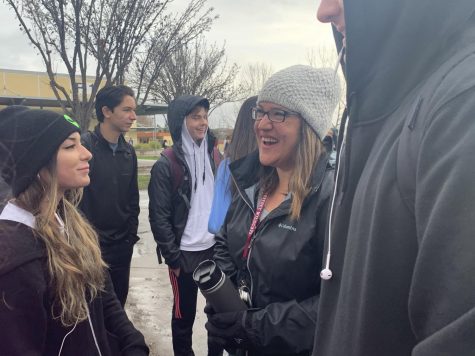 Everyday Sofiia Malushkina attends school feeling safe, knowing she is being protected by the discipline techs.
"I feel really safe when I'm at school. Knowing that there is always somebody who I can go and talk to if I have a problem or I need help when one of my friends is in struggle makes me feel much better around our campus," Malushkina said. 
Not only do discipline techs supervise students, but they help keep them and the campus safe. They work to help make sure that students follow the rules of the school and make good choices to be successful. Many people know who they are by seeing them at lunch, break, passing periods, during class and after school. Staff members Mrs. Jessica Alcala, Ms. Jordan Holm and Mr. Dominic Walker are the three discipline employees. 
A discipline tech's job mainly consists of supervision of the students at lunch time, between periods and after school. They schedule detentions and try to stop any confrontations as quickly as possible. 
Alcala has been working as a discipline tech since August 2019. 
"If there is a fight, we are going to do our best to make sure that stops immediately. We're also continuously on the lookout for anyone on campus that isn't supposed to be here. For example, adults or kids that don't belong, or people that don't have a visitor tag," Alcala said. 
During the rainy season, the discipline tech's jobs are slightly altered. 
"A lot of the students tend to congregate into the same area so it makes it a little easier," Holm said.
Students may believe that the job of the discipline techs is to simply ruin their fun pastime on campus. Walker has been working at the school as a disciplinary tech since the beginning of this school year. 
"The hardest part about being a disciplinary tech is just staying patient with certain kids. Everyone is different, so you just have to monitor your interactions to who you deal with. The weirdest experience I have come across was just a little PDA, some people just need to tone it back a little bit," Walker said.
Students tend to question why they use golf carts for their job. There is one golf cart only the discipline techs use. They use it to make sure kids are not out of bounds or getting hurt, or they use it in the event of a classroom emergency.
"We do our job for the kids. I absolutely love the teens. Everyone here has a good heart, whether it is someone who gets in trouble or never gets in trouble. I honestly feel like everyone here has such a good heart," Alcala said. 
Discipline techs have different reasons for working in this role on campus."Just dealing with all the kids and seeing different people from different backgrounds, personalities, and just learning how to talk with them, to get what I need to accomplish out of them." 
Walker wishes to advise students to take care of themselves. 
"Don't do anything that would get you into trouble, especially here at school the rules are very easy. Whether you like it or not, as long as you take care of what you need to take care of it's going to be fine. Be yourself, have fun and be smart," Walker said. 
by NATALIE DAMIAN & BROOKE WICKHAM