The Basketball Brothers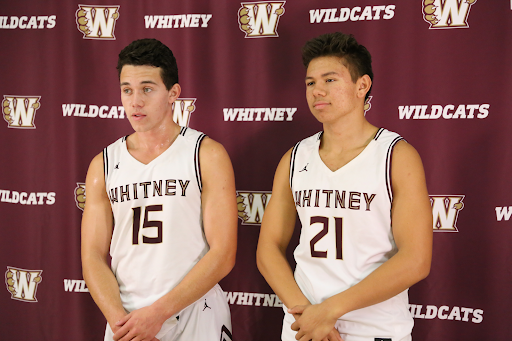 In sports, chemistry is everything. All teams have talent, but when that talent doesn't get along with one another or buy into the team philosophy, there's no point in even trying. For two brothers playing together on the same team, that chemistry has been built and tested since birth, giving them an undeniable advantage on the court.
Last year, Liam Graf made the varsity basketball team as a junior, as his freshman brother Boston developed his skills playingJV This season, the Graf brothers reunited on the varsity team, the first team they've played together on since kindergarten.  
"We played Hotshots together a long time ago and a little bit this summer for the Whitney summer team but this will be the first time we played together for an important game, so that should be fun," Boston said.
The opportunity to play with each other excited the brothers going into the season.
"We definitely know how to play with each other. The funny thing is that a lot of people tell each of us that we could use elements from each other's games to improve. I'm more of a ball-handling point guard type while he's more of a rebounding-machine inside. I feel like those two styles of play always compliment each other well," Boston said.
Despite his youth, Boston has made a legitimate contribution to the 17-2 varsity team. So far in 17 games this season, Boston is second on the team with 34 assists. Liam on the other hand, is in the top five on team team in both points and rebounds per game.
"We've always agreed that ball handling is something he's better at that I am, and I am better at everything else," Liam said.
While this opportunity is extremely rare for high school siblings, the brothers don't like focusing on their relationship over the rest of the team. They treat each other as any other teammates. 
"I think I'll be a great mentor for [Boston] but honestly, the same with any other junior or sophomore on the team. Just because we're brothers, it doesn't matter; we're still on the same team and he just so happens to be related to me," Liam said.
The brothers each said their goal for their season was to help the team in any way possible to become league champions.