New hybrid schedule affects students' mental health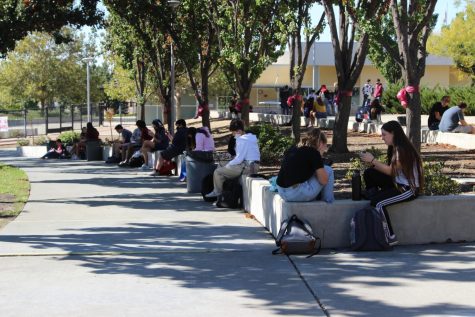 At 7:35 on the dot, Salvatore Martinez gets dropped off at the administration building. While getting out of the car, he puts on a black mask, and begins his walk towards campus. As he walks through the front black gate he starts seeing hundreds of students and begins to get stressed and anxious due to the risks of catching the virus. The hybrid model has been in action for three weeks now and students like Martinez have started to notice a shift in their mental health.
"I've been a lot more stressed and anxious, and I mean a LOT! I have asthma, so I'm coming to school with that little voice in my head saying, 'There's 1,000 other people here, you're going to get sick,' and who knows what comes after that. Even passing by people on the way to class will begin to freak me out, especially when I see people not wearing masks," Martinez said.
Not only is Martinez stressed at school, he brings that stress home, fearing that he is putting his family at risk.
"I've noticed that I'm starting to distance myself from family members due to the fact that I don't want to infect anyone, or get infected myself (especially since my mom also has asthma). I've been spending a lot more time isolated in my room. I'll typically keep distance between myself and family members whenever I have to go downstairs or be around them" Martinez said. 
Martinez was one of several students who spoke publicly at the Sept. 29 school board meeting as the trustees decided whether schools would reopen for five-day instruction on a fully in-person model. The board voted 3-2 to remain in hybrid through the end of the semester.
"
There's a very definitive sense of guilt and isolation. I don't want to distance myself from them, but it's more for the safety of everyone involved. At times it feels like I'm overexaggerating the steps I take to keep myself safe, but when I'm coming from school in classes where I'm surrounded by five-to-six people for an hour at a time, it seems like the best course of action, even if it's not putting my mental health in the position that I want it to be in."
— Salvatore Martinez
The hybrid model, for some, adds the stress of putting loved ones at risk. Brendan Wilk is staying safe in an attempt to prevent his family from contracting the virus. 
"My grandpa had open heart surgery this year, so even though he's in good condition, his immune system is not ready for this virus. I feel as if I'm keeping safe for them. I'm not super worried about myself, but I do not want anything to happen to [my family] or anyone like them. Of course I miss [my] family but it's worth it, [to keep them safe,]" Wilk said.
Throughout the past first weeks of the new schedule, there's been the stress of putting loved ones at risk. But there's also students like Carter Lewis, worried about their own safety at school. 
"During my on-campus days I feel more stressed having to be around other people and worry about safety precautions. I feel unsafe and uncomfortable around my own friends. [I] would prefer just to be home, it's clearly safer and eliminates all risks of spreading COVID among students and staff. Also as high schoolers we are able to handle distance learning, just like many college students do," Lewis said.

That's not the only struggle, though, with students still trying to get used to the hybrid schedule, some have fallen behind in their classes due to the changes. 
"I have noticed that I have become a lot more stressed and anxious because [of] our off days. I have depression and the added stress from school sometimes makes it a lot worse for me to deal [with] it. [On our days at home] we have to teach ourselves unlike when we were online and had zoom classes everyday and got to hear our teachers talk. I'm behind on a lot of my assignments for school and it's just hard for me to manage all my homework and classwork," Veda Bommana said.
While Bommana feels the new schedule has made it difficult to balance assignments and keep classes on track, Isabella Smith believes that it's a good way to keep her personal life and school life balanced, impacting her mental health positively. 
Smith said, "I definitely have noticed a difference in my mental health. I really have enjoyed going back to a hybrid schedule because not only do I get all of my work done during my classes, so I can have a day off, but it's nice to get a break from school, and I can work more and see a couple friends. I just feel like there's more room to keep my school life and personal life separate. When we've had the regular school schedule I've never felt like I was able to separate school and personal life and it really impacted my mental health negatively. I would prefer to just stay in a hybrid for the rest of the year."