iOS 14 update leads to unique home screen creations
The new Apple iPhone iOS 14 update has people all over the world excited and exploring the new features for their phones. The update became available for installation Sept. 16, and has since grown very popular, especially due to the specific feature upgrade that allows for a customizable home screen. New home screen features were added, such as widgets and the ability to change app icons, to add dimension and personalization to every individual home screen.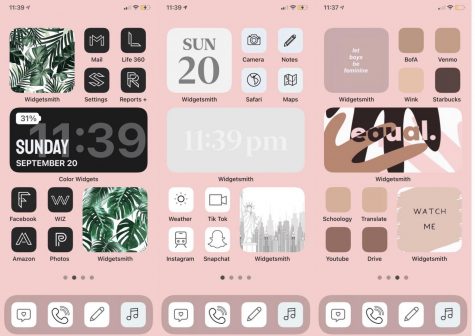 The customization of the home screen has become a popular feature, especially among younger users. The new features such as customizable widgets, the ability to change app icons and more allow for endless possibilities to add a personal touch.
"I like the update because it allows me to personalize my screen the way I want it to look. My most favorite feature is being able to change the picture of my apps to make it more aesthetically pleasing and organized," Spencer Polischuk said.
With these new features comes an almost infinite amount of creative choices. Gabriel Garcia customizes his home screen in a creative way to showcase and represent himself uniquely.
"Personally, I love the new update and the different upgrades they've done. My favorite feature on the new update is the ability to customize your homescreen. I really think that being able to redesign your own home screen however you want is a fun way for people to express themselves," Gabriel Garcia said.
When personalizing app icons, users can select personal photos, internet photos, colors and other options, and each app requires individual settings. The large range of options for customization provided can easily become a very time-consuming task.
"I redesigned my home screen into simplistic designs and I'd say each page took me over an hour. A downside is in order to open an app, you have to go into the shortcuts app first, which takes a little bit longer to open," Polischuk said.
As the rearranging of home screens became more trendy, Kira Thompson found different shortcuts and ideas for personalizing their own home screens. There are currently endless ideas for inspiration across social media platforms.
"I took a lot of inspiration from my friends and from TikTok since a lot of people were making videos about their home screens. I surprisingly only spent an hour on it, but I didn't make it too much different from what it was before," Thompson said.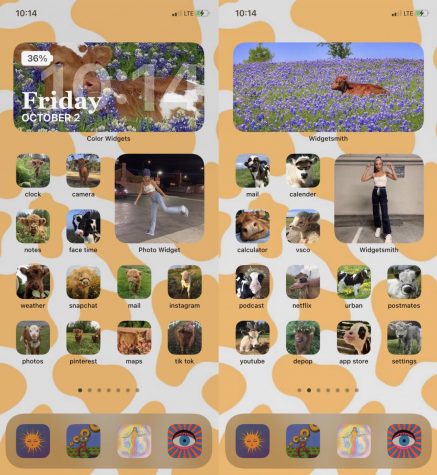 The abundance of custom options has resulted in a large variety of designs and visuals, some taking longer than others for students to create.
"I've designed my home screen with a couple different things — one of these was including my favorite animal, which is cows. I also included some fun app icons. It took me about two hours to complete it all, but I still like to switch it up every once in a while," Garcia said.
Because of these new features, the update has gained popularity, but it is not perfect yet. Aside from the mostly outstanding reviews from users, some aspects aren't up to par.
Thompson said, "One of the downsides I've noticed about the update is the camera quality, on Snapchat especially. Every time I send or receive a video, it's super blurry and pixelated, and it has only been like that since I updated. Other than that, there isn't much that I don't like about the update; I really like it."
by ANGELA ROBERSON