Dance team coaches Mrs. Mallory Ansley and Mrs. Halley Crandell step down due to family commitments
Beginning in the 2022-23 school year, Mrs. Halley Crandell and Mrs. Mallory Ansley will be stepping down as Whitney's Dance Team coaches.
Crandell has been coaching the Gold Dance Team and teaching Dance I through Dance IV since her graduation from CSU Sacramento in 2011. During her decade at WHS, she has gotten married and become a mother to two children.  
"I have made the very difficult decision to step away from teaching and coaching at the end of the school year in order to put my family first. My children have grown up going to the games and every dance show. Now that they are older, I am looking forward to being more involved in their activities," Crandell said.
Ansley, who has been with the program for five years, will be stepping down as the Maroon Dance Team coach for similar reasons.
"Coaching requires a lot of commitment outside of school hours. There's practices, performances, and a large amount of planning that goes on behind the scenes. Instead of coaching after the school day, I will be spending time with my newborn son," Ansley said.
While Crandell is completely stepping away and will no longer coach or teach, Ansley will continue as a dance teacher. Since she will maintain her position in the Visual and Performing Arts department, she will serve on the interview panel for Crandell's replacement. 
"When we hire for pretty much any department on our site, the department that we're hiring for has a representative on the interview panel and has some kind of a voice in how we screen," Assistant Principal Mr. Jeff Dietrich said.
Hiring the new teacher and coaches is a multi-step process. Because coaching occurs outside of the constructed school day, the coaching positions could theoretically be filled by a different candidate than the one who replaces Crandell.
"It depends on who applies and what their qualities are, and if they want to be a coach. Coaching interest would be a desirable quality in an applicant, but if the right teacher is not also the right coach, we would consider that we might have to hire a coach separately," Dietrich said.
There is also the possibility that the position could be filled by a teacher currently employed in another department.
"For every job, you have to do the listing internally for five days. That is why the [in-house] deadline is only open for five days and closes Thursday, April 28.  If somebody teaches here, they have five days to apply for that position, and then we open it for external," Dietrich said. 
If the position is not filled by a current staff member with the desired credentials, it will be open until filled by a qualified applicant. Although the timeline is uncertain, Dietrich estimates that a new teacher will be chosen sometime during mid-May. Dancers who worked under Crandell and Ansley are not sure of who their teacher will be next year, but they do believe the program will change in their absence.
"Most of us have been with them since our freshman year and they'll be greatly missed. We have all made so many memories with them. They've always been so supportive and fun and I will miss that," Eilah Brooks said.
Some of the dancers have been involved with the program since Crandell and Ansley began their teaching careers. They say that watching their teachers leave holds a nostalgic weight.
"I grew up going to dance team kids camps, so [Crandell] has definitely been a huge role model for me who I will be sad to lose," Lindsey Reichstein said.
Both coaches have made deep bonds and memories with the dancers they will now have to say goodbye to. As they prepare to leave their positions, they reminisce on the relationships that have sustained their work.
"My favorite memory as the dance coach is when we went to USA Dance Nationals in 2019. The experience we had together was unforgettable. Besides that, just the day to day with the team is so rewarding. Seeing them succeed to follow their dreams and their passions fill me with so much joy," Crandell said.
"It is so difficult to pinpoint just one favorite memory. I would say my favorite part overall has been building close relationships every year with the dancers on the team. Of course there have been so many moments where I've been proud of what they've done and accomplished as a team, but at the end of the day I will first remember all of our weird inside jokes and the times when we would laugh until we cried," Ansley said.
The reactions from students who have grown close with the coaches have been mixed. Some fear that their absence will result in a change of structure within the dance program.
"It's going to change a lot, and it's a little scary. I feel like Mrs. Ansley will keep it pretty much together, but the new teacher will probably add new things," Michaela Mortz said.
Other students say they are confident that their mentors will find strong replacements, and that they welcome the opportunity to learn from somebody new and develop their skills in a new environment.
"I think the team will still have the same dynamic, but there will probably be a new atmosphere as we will all be adjusting to not seeing the coach[es] we've all known for so long. Though it is sad, I think next year will be a new and exciting chapter for the dance program. We currently don't know who will be taking over, but I know whoever [it is] will be just as committed to making it an incredible program," Reichstein said.
Aside from the students who have made personal connections with the coaches, there have also been shows of support from administration. 
"Change happens, and within this case, it is not a negative change. It is about somebody who is bettering their life and moving on in different directions," Dietrich said.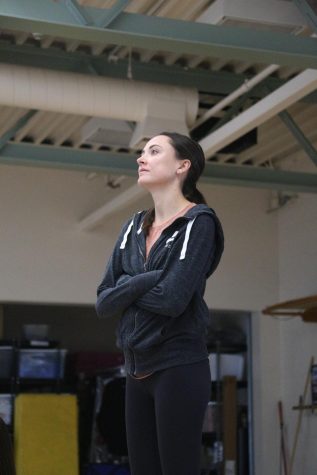 For their students and athletes, the coaches leave a final message.
"Whether I had you in class for a few months or years, you have made an impact on me. Your positive energy, desire to grow, and vulnerability has inspired me every single day. I hope you continue to follow your passions and never miss a chance to dance. And to my team- thank you for the countless hours of hard work and perseverance. You are an incredibly talented group and are like family to me," Crandell said.
Ansley, who will continue to see many of her former dancers during classes, said, "I love this team so much. I have immensely enjoyed my time coaching these past 5 years."
Crandell is optimistic about the coaches who take the places of her and Ansley. She says that she knows the program will continue to be successful because of the dancers she has coached – both on the dance floor and off.
Crandell said, "During my time at Whitney, I have always prioritized teaching my dancers to be good people and strong leaders; dance was just a common passion among our group. I know the dance program will continue to thrive in my absence. It has never been about me as their coach or teacher, but about the students that have been the "sparkle and shine."
Crandell will coach the last show of her career at the Advanced Dance Showcase on May 21 at 7 p.m.
by MAYA GOMEZ, POLINA SOKOLOVA & NIKHITA TANDON