Service dog in-training accompanies Emma Silva on campus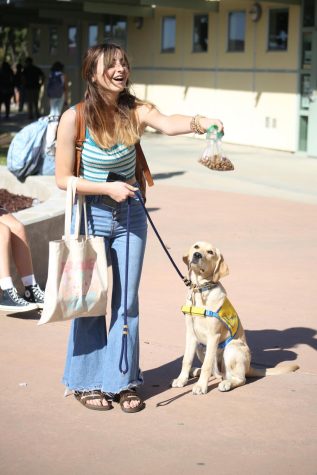 When Emma Silva overheard that her mother's coworker had previously trained multiple service dogs, she was inspired and sought to follow in their footsteps. Once Silva had officially decided she wanted to become eligible to train a service puppy, her family agreed to put their name on the waiting list for a two month old Canine Companion, Kokomo.
"This is my first dog in training and I initially got into it because my mom's coworker has done a bunch. [My mom and I] thought it would be something that [we] would enjoy. We decided to put our name on the waiting list for a canine companion puppy and I picked her up in May when she was 2 months old," Silva said.
Silva has been training and caring for Kokomo since May and started training her on campus last month. She brings Kokomo to school almost every day to get her used to being surrounded by others calmly and to guide her every step of the way in the training process. 
"She loves the attention and is often better behaved if she gets that out of her system. There are times when she's focusing well and I would rather not break that so i'll say no but otherwise petting is totally welcome." Silva said.
By bringing her to school on a daily basis, she is able to train Kokomo not to go up to students or staff for attention. Some students may approach Kokomo to give her attention, but it helps her along the way in her training process.
"[Kokomo] settles into class nicely and usually doesn't cause too much distraction to students or teachers," Silva said.
Kokomo is a Golden Lab mix. While Kokomo is learning to behave properly in a service environment, Silva's peers are learning to respect Kokomo's work. Silva's good friend, Celeste Ruiz, sees Kokomo on a daily basis. Ruiz has gotten in the habit of not petting Kokomo during her learning hours.
"I actually don't pet Kokomo, the only times [I've pet her] have been an accident because she'd stick her head right under my hand when I wasn't paying attention," Ruiz said. "Kokomo is still in the training process of learning how to ignore others, be observant, and [have] low energy. However, because she is still a puppy she is almost the exact opposite of these qualities. 
Every morning when I ride with Emma and Kokomo I get licked from both sides of the headrest for the entire ten to 15 minute car ride to school."
Riding on the way to school with Silva and Kokomo, Ruiz finds enjoyment in Kokomo's puppy qualities.
"It always puts a smile on my face seeing her tail wag happily through the window," Ruiz said.
Usually, Silva allows people both inside and outside of her classes to give Kokomo their love. However, there are exceptions to Kokomo being pet or scratched while on campus.
"Ninety percent of the time, I'll allow someone to pet her," Silva said. "She loves the attention and is often better behaved if she gets that out of her system. [Although] there are times when she's focusing well and I would rather not give her a break. Everyone has been extremely good about asking before petting her which is much appreciated."
Taking care of a puppy comes with several responsibilities such as taking periodic breaks, providing them with the proper necessities like food and water and basic service puppy training. Kokomo doesn't get a full bowl of kibble at school, but Silva does provide small treats for good behavior. 
"Now that we have gotten the [jist of] everything, breaks aren't really necessary," Silva said. "Occasionally, I'll take her out during a class to give her a bathroom break or just a chance to go outside if she seems antsy or restless."
Kokomo is well behaved outside of the classroom as well as inside. Ms. Laura Brun, Silva's forensics teacher, enjoys Kokomo's presence in the classroom.
"She has such a positive, sweet energy and it's really hard to resist her wagging tail and wiggling body when I circulate the classroom and when we make eye contact," Brun said.
Kokomo is the second service dog in training Brun has had in her class over the years. Brun didn't know about Kokomo before school had started and was very excited to have a puppy in the class. 
"I was very excited.  She is the second one I've had over the years. Emma is an excellent handler and I've seen, just in the short time, a lot of growth in Kokomo and how she's learning her role thanks to Emma's leadership," Brun said.
Silva has impacted many different aspects of a school setting with training Kokomo. More teachers, students, and staff has had the chance to experience what being around a service dog in training is like. 
"If I could have Kokomo just stay and be a permanent resident in my room, I would. She makes me smile every time I look at her just lounging on the floor waiting for the chance to wag her tail," Brun said.
by ALYSSA FOLMER & REESE MORACCO