As new student teachers arrive, Ms. Courtney Crowe takes on Mrs. Nicole Ferguson's U.S. History classes to start her teaching career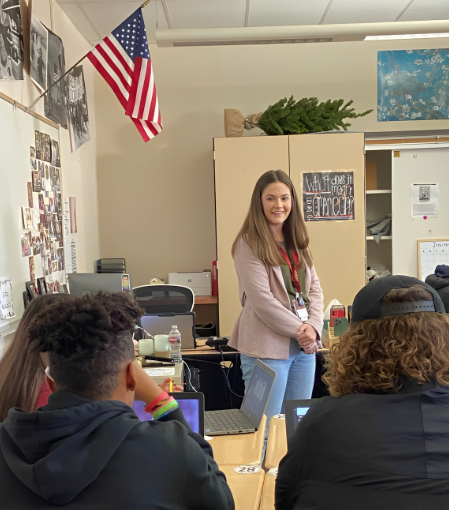 Coming from Nipomo, a small town near Pismo Beach, Ms. Courtney Crowe begins her journey in becoming a teacher. Receiving a bachelor's degree in Political Science and International Relations from Sacramento State, Crowe said she always knew she wanted to teach history along with all the social sciences.
"I think we should study history so we're not doomed to repeat it. I also want to light a spark of interest among students who might not have an interest in [history]," Crowe said.
To become a student teacher, Crowe attended weekly classes in the last twelve months in preparation for a series of tests such as the CBEST, CSET and three sub-tests, all assessing subjects that one would encounter as a teacher. Today, Crowe is more than halfway through her teaching portion.
"One year from now I'll have my Master's. But in five more months I'll have my teaching credential and I'll be able to be a teacher," Crowe said.
As Crowe's mentor, Mrs. Nicole Ferguson divides her time between creating lesson plans, teaching and now, mentoring.
"In the beginning it's a lot more work when you have a student teacher. I'm spending my entire prep period talking to her, [which] means I have a lot less time to get stuff done but as she begins taking on more and more work, that frees up a lot of my time during the class periods to catch up on that stuff I'm tabling right now," Ferguson said.
After having her first student teacher a few years ago, Ferguson said she enjoyed the mentoring aspects that came along with the process of preparing them to become a teacher.
"It allowed me to not just teach students, but I got to teach teachers. It's just great to show them the tricks of the trade and my personal style [of] teaching," Ferguson said.
Within a few days, Crowe already received positive feedback from both sides of the classroom.
"She's very willing to jump in and do the whole sink-or-swim method. I really appreciate that willingness and she's also got a passion for history which I think is going to play well in her role [as a] teacher," Ferguson said.
Although this is new for some students, they said they welcome their new teacher into their fresh environment. They have different feelings about this change. One of her students, Abby Loens, feels excited about this adjustment.
"[Ms. Crowe] is very interactive with the class and makes it seem like more of a conversation than a lecture," said Loens. "She matches the energy and the atmosphere really well and she seems interested in history so she seems like she is a good teacher."
by KODA CEDOR, RACXEL DOMINGO & IZZY LENIK