Military Ball serves as banquet and celebration for AFJROTC cadets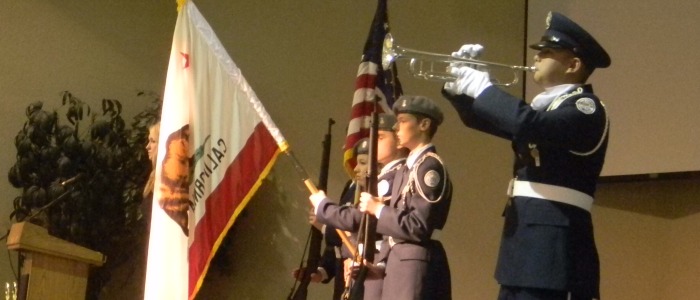 It may not be the end of the year quite yet, but the Air Force Junior Reserve Officers Training Corps (AFJROTC) program has already celebrated their achievements of the year at the 18th annual MIlitary Ball that took place at the Rocklin Sunset Center on Jan. 26.
The event title sounds like it is primarily a dance, but that is only part of the evening. In reality, it is the night where all grade levels in AFJROTC gather to look back on the year's successes and receive awards.
The night began with Taps performed by Cadet Captains Matthew Dunn and Eric Leverenz and the posting of the colors and the flag folding with a tribute to U.S. soldiers past, present and future, and to those who have lost their lives fighting for the country. The Table of Honor sat on the stage throughout the night to represent fallen heroes who are unable to be with their families but will never be forgotten.
A slideshow of photos showed images from Summer Leadership School, where cadets gathered for the first time before the new school year, met the older students and went through leadership activities, as well as footage from the Titan Drill meet at Luther Burbank High School on Nov. 4 where the unit won five First Place trophies, two Third Place trophies and won Sweepstakes, or first place overall in the competition.
After the dinner, Cadet Lieutenant Colonels Cody Moffitt and Carolina Morris announced promotions and ribbons to various cadets.
Then came the grand awards from the National level that included Air Force Association, Daedalian, Military Order of the Purple Heart and The Celebrate Freedom Foundation awards, amongst many others.
Special awards were presented for Gold Valor, Silver Valor, Cadet Humanitarian and Community Service with Excellence.
Closing comments were made by Master of Ceremonies Cadet Colonel Molly Miles and Senior Aerospace Science Instructor Colonel Michael Fernandez.
After the awards had all been presented and the successes had all been celebrated, the cadets then got to enjoy a formal dance to complete the night and fulfill the event title of Military Ball.
Even though the school year is months from being over, this event marked the end of something many seniors have been a part of for so long.
"I've really enjoyed the past four years. I've enjoyed the friendships, the life lessons, and the confidence building," Gold Squadron Commander, Cadet Lieutenant Colonel Samantha Lanz said. "I'll miss Sergeant and Colonel's wisdom and guidance. However, I know It's my time to graduate and move forward with my life. I need to make way for the new freshmen so they can learn their lessons and journey through the program."
by SHAI NIELSON