Leadership's Black and White Affair reaches set fundraising goal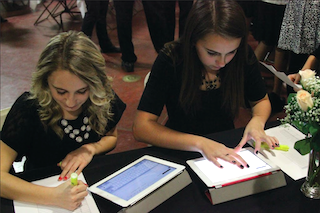 The annual Black and White Affair was hosted on Jan.24 at Placer County Fairgrounds and catered by Off the Vine. The formal dinner and silent auction is held as the annual fundraiser for ASB events.
In past years, however, it has been held at the Rocklin Event Center. The new venue cost around $2,000 and an additional $1,500 for a live band. Leadership students sell event tickets to friends and family for $45 and to WHS staff for $25.
Packages to be auctioned off were donated by private businesses and sponsors, contacted by the fundraising committee. They ranged from $50 to several hundred dollars.
"This year we had so many awesome things up for auction like court-side Kings tickets, hot air balloon rides, Tahoe weekend getaways, and lessons from a professional tennis player," Fundraising Commissioner Alyssa Eppler said.
Each year, leadership spends about $5,000 on each dance and $2,000 on each rally.
"Last year we raised around $13,000. This year, we were reaching for $15,000, and I think we managed to get at least that," treasurer Annalise Achacoso said.
Along with raising the funds necessary for operation of their program and overall benefit of the student body, leadership students enjoyed a night of formal wear, serving guests as waiters/waitresses, working the auction tables, and dancing to the live band following the dinner.
Later that night, social media was full of posts about excitement surrounding the event: dressing up in semi-formal black and white attire, bonding with other leadership students, and dancing to the live band.
"The fundraising committee did a great job at choosing the venue, caterers, and band. With all of the hard work put in by everyone in leadership, we've raised enough money to put on the rest of this year's events," Choisser said.