A Great Big World diversifies the nation with new album, 'When the Morning Comes'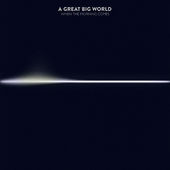 After their top hit with Christina Aguilera, "Say Something", A Great Big World comes out on top again with their new album, "When The Morning Comes". This new album, released on Nov. 13, not only keeps their famous piano melodies we all fall in love with in songs like "One Step Ahead," but also diversifies by adding in some more upbeat songs that tear apart the deep stormy clouds from a cold Monday morning, such as their featured songs, "Kaleidoscope" and "Hold each other."
The featured duo, Ian Axel and Chad King began in 2010, where they were both studying music at New York University, which followed touring in 2011, playing multiple originals, such as "Say Something", as well as covers by idols such as Ingrid Michaelson. In 2012, the name "A Great Big World" was developed.
They are now known as the artists who wrote the top hit, "Say Something" in 2014, featuring Christina Aguilera, a vocally powerful artist that is popular internationally, as well as featuring in songs with other artists such as Ingrid Michaelson in her new album, performing the song, "Over you". Now, in 2015, their next album, "When the Morning Comes" meets similar expectations.
The new album shows the similar romantic factor that previous songs, such as "Say Something" represent, but in the song, "Hold Each Other", the song still has the famous piano playing in the background, followed by more upbeat instruments and chords and towards the end features Futuristic, a talented rapper who is well known for the lead single, "Don't Mind if I do." The artist added some upbeat dance worthy beats to contrast with their heartwarming lyrics that tug at the heartstrings of their fans, which in the end provided a strongly featured song.
Following upbeat, the song, "Kaleidoscope", brings another dance-in-your-pajamas type of rhythm that is the song to listen to when you need a mood-lifter. Whether it's from a bad day at work or a harsh breakup or just the common "Monday blues", the different beats in this song brushes away the negativity until all you want to do is dance around and party.
In contrast, they still provide their usual piano-duo we all loved to begin with in the song, "One Step Ahead" where it brings us back to the usual romantic flashback feeling we all get when listening to their emotional melodies.
All in all, you can never go wrong where "A Great Big World" is concerned. They bring everything to the table, from emotional sad songs to uplifting romance to dance along in your underwear.
by MADISON HUCKABAY