Destination Imagination provides high school students a creative and imaginative enviornment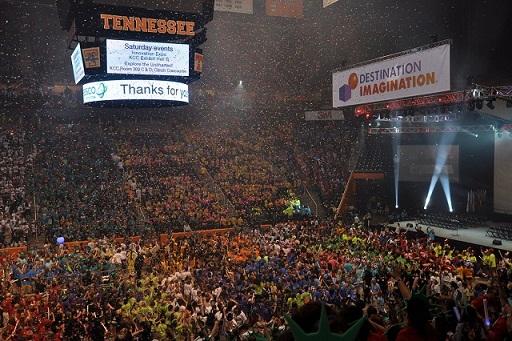 Pretending to ride dolphins across a stage, using only newspaper to build props or creating a new technology this world has never seen before, all parts of the annual Destination Imagination competition.
Destination Imagination is a nonprofit organization whose goal is teach students the creative processes and skills. It works with educators and industry experts to develop seven, new academic challenges in the fields of STEM (science, technology, engineering and mathematics, as well as the arts) social entrepreneurship and early learning. Students work in teams up to seven to research, design and build a solution to their preferred Challenge. In solving a Challenge, they learn the creative process.
Recently, a team of three high school freshmen made it to the Global tournament, after placing at regional and state competitions. Regionals was held at Olympus Junior High School, and State was held at the Riverside Convention center. Globals will be in Knoxville, Tennessee, at the University of Tennessee.
"Destination Imagination is a creativity program to help embrace our positive and intellectual thinking to solve abstract issues," Niki Morgan said.
It's Morgan's first year on the team, and she thinks her experience has been one of the most influential and motivating parts of her life.
"Not only has my [Destination Imagination] experience increased my acting ability but has also allowed a stress free environment for me to have fun while still thinking as if I'm learning," Kristen Smyth, another team member, said.
Although adding Morgan to the team this year, they lost another team member right after the State tournament, and are having to adjust rehearsals.
"It's been interesting, and I am very impressed to see how well the girls have adjusted to losing a team member so far into the season," Carrie Van der Linden, their team manager, said, "I'm excited to see them perform on a global stage."
The challenges allow the teams participating to collaborate and use critical thinking skills to solve a multitude of problems.
Morgan said, "This DI season so far has been an eye opening and amazing experience. It has allowed me a creative outlet that I am able to be the goofball I am where I can incorporate my favorite things: acting, my best friends, traveling and thinking outside the box."

by AVERY VAN DER LINDEN