Combining waffles, cookies for the perfect holiday treat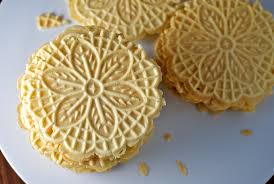 The pizzelle: the perfect Italian food that can go along with any meal. A mix of a waffle and a cookie, but with even more sugar, it was enough to always get me excited for the holidays.
Every year around Thanksgiving and Christmas, my family gets together either where I live here in Rocklin, or we make the very boring three-hour trip over to where they lived in Fresno, where I spend most of my time in the car sleeping and wondering when we are going to finally get to my relative's house. But no matter where we went for the holidays, we would always bring our pizzelle maker.
When everyone was together, we would sit down and bake the pizzelles using my late grandma Virginia Foster's recipe. Of course, the parents had to be in charge, after the fiasco when I tried to make them myself, but nevertheless, they always turned out great. They are crispy, buttery, and have a delicious vanilla smell. And because my family was large, and our appetites even larger, we would make upwards of 100 of these tasty treats.
The pizzelles always had cool shapes, and they stood out easily amongst the crowding of other foods on a Thanksgiving dinner. They are always interesting to look at, but hard to describe. Whenever I see them, the only thing I can think of is that they look like Eggo waffles with a flower at the center.
The perfect mix of waffle and cookie, it was the best dish there. I was always ready to fill my entire plate up with these, without actually eating any of the other foods.
It was hard and crisp, just the way we liked it. However it could have easily been soft and still been delicious. The mass amounts of sugar and salt within the pizzelle made you constantly craving more, and they were small enough to not fill you up, making it easy to go back and grab a couple more.
Each year we put a unique twist on our pizzelles without fail. Because nothing can ruin the tastiness of the pizzelle. We've tried oranges, chocolate, and just about anything you could think of adding to a cookie or a waffle, and it just works with the pizzelle.
When the holidays passed, and our family members leave, there are always extras that would last a normal family a couple more weeks. But for us, they were gone in an instant, eating these tasty treats until the very last crumb.
But when it was all done, we would all be sad, knowing we would have to wait another year to enjoy the savory pizzelle again. However, when the holidays come up, I feel a humongous craving that only a pizzelle can fulfill. The unique and delicious taste that cannot be replicated.
by RYAN FOSTER