Simple sweet, staple of childhood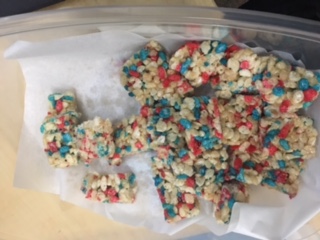 As a little kid my house was always crazy, everyone running around in the morning misplacing things. Two of my siblings were in high school, one in college, one in middle school and me in elementary school. We didn't have family dinners that much because everyone was always doing their own thing, but one thing my mom always made for us that we loved was Rice Krispy treats.
The sticky, gooey, sweet treats were my favorite thing when I was little, although they may have not had any unique recipe my mom always made them the best, who knew that rice krispies, butter and marshmallows could make my favorite thing as a little kid.
When I got to the age of seven I would help my mom make them all the time. My job was always to get all of the ingredients out including butter, marshmallows and Rice Krispies. My favorite part was always mixing the sticky mixture into a ball.  Even though they aren't anything special these tasty treats always bring back happy memories of the long trips to grandma's house where everyone brings some type of food to regular weekends bonding with the family.
by ANNALISE MORALES