Remembering my grandparents through jam tarts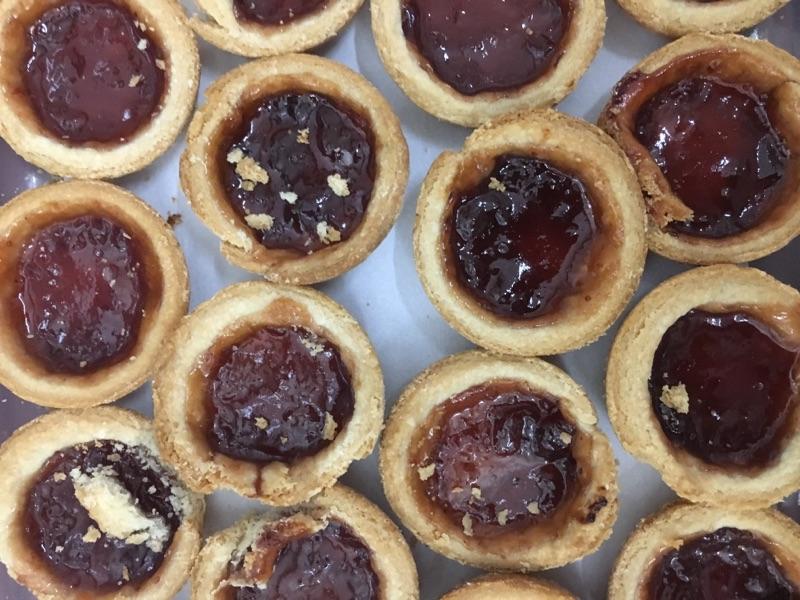 Jam Tarts: one of the most simple yet delectable desserts I have ever set my eyes on. Watching patiently as the sweet pastry goes into the oven always reminds me dearly of my grandma, Mary Jacoby.
Mary and Don Jacoby were spectacular grandparents, they preferred to be called "Nana" and "Grandad," and always do anything you asked. I remember driving down to my Dad's parents house a few times every year, always asking when we would finally be in Moraga, California. It was a relatively short drive, only an hour and a half or so, but I was a impatient child who was full of energy, and hated long car rides. Every twist and turn, I stretched to look ahead to try and see the opening through the forestry road my dad always took. And when I saw the infamous park where my brother broke his arm, I knew we were close.
Their hillside house was quaint, with a small room downstairs and a slightly larger one upstairs, the smell of food always wafting through the house. As soon as you walked in you were greeted with two, smiling, wonderful grandparents with wide arms ready to hug you. When we got inside, we sat down on their oh so familiar couches, littered with blankets everywhere, and catch up on our lives. We laid around and watched TV for a short bit, then head over to their neighborhood pool and tennis court to get some sunshine, where my brother and I always tried to get my parents and grandparents to play, however we were mostly unsuccessful.
After burning a little bit of energy, we ran inside to clean up and prepare for dinner — and most importantly, dessert. After a wonderful dinner, normally involving a heavy meat and side like steak and potatoes, my Nana brought out her staple dessert, the Jam Tarts.
They looked so simple — just some pie crust as a perimeter and hole filled with strawberry jelly in the middle. However, you were always surprised as the crust of the dessert was perfectly baked, as part of the crust flaked off with touch. The jelly perfectly completed the taste of the crust, making for an excellent taste bud pleaser. The taste and the texture stayed in your mouth for a good period of time, but eventually you had to go back for more. After all, what's one more, right?
We all sat together eating the Jam Tarts, and when we were done we returned to the couch to relax and talk. My brother and I always asked our Nana for a back scratch, as it felt oh so good after a meal, as all of my potential worries were lifted away.
As I got older, I assisted her in the making of the Jam Tarts as it served as a bonding item between me and Nana. She told me stories about her life or about the dessert's history, as it served as a childhood treat between her and her sister in London, England. We shared the anticipation as we put the treat into the oven, eagerly waiting for them to be done.
However, the memory is also bitter sweet as my Nana passed away recently due to mental failure, as she could not remember how to do specific things, nor could she remember her family. Yet, the memory lives on as I make them with my mom, always remembering the joy that Mary Jacoby brought to family and to me.
by BRENDEN JACOBY