Wiping off the frosting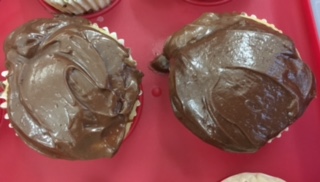 My sister has always wanted to be a baker and start her own business. When I was younger, I loved when my sister made vanilla cupcakes with chocolate frosting.
They were my absolute favorite because of the rich chocolate frosting that topped the moist cake and when you bit into them you got a taste of them both.
When I ate them, I would only lick the frosting off and throw away the cake part.
Well one day, my mom caught me throwing away a cupcake after the chocolate frosting was licked off and when she looked into the trash, there were four unfrosted vanilla cupcakes in the trash. My mom got very upset and told me what a waste that was so she wiped off the frosting of four cupcakes and forced me to eat them.
I refused but then after about 15 minutes I slowly started eating the cake. Now I can eat both the cupcake and the frosting with no problem.
by SARA ACEVEDO