Forget the presents, Christmas is for Irish soda bread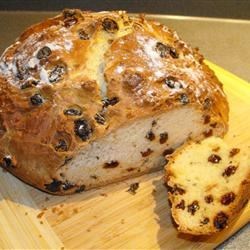 The twinkling lights of the Christmas tree lit up the front room, soft music playing in the background. The sun rose, casting a beautiful sunset glowing through the window. It was Christmas Day. I always looked forward to Christmas Day. Family, gifts and of course food. One food item in particular, the smell of fresh baked Irish soda bread just out of the oven. Irish soda bread is something my family has always had for Christmas dinner.
Made by my Polish grandmother, she always made the best Irish soda bread. The soft but firm texture with a heap of butter was something I always looked forward to. The bread was always moist, never dry, and had loads of soft raisins. The crust was perfect, not rock hard but not too soft, while the inside was crumbly and melted in my mouth.
My grandma was born in Austria, a faraway country in Europe. She came to America as little 9-year-old girl. She settled down and cooking was a passion of hers. When I was a little girl, she came over every Sunday and cooked amazing dinners and desserts. She had a special name too. She always liked to be called "Babcia", "grandmother" in Polish. As a little girl I could never pronounce it right even though my other cousins could. Instead of saying "Babcia" I said "Fafa".
Every Christmas morning started off with breakfast and the opening of delightful gifts. Fafa put the soda bread into the oven and the day continued on. Our family enjoying our gifts and the aroma of delicious soda bread baking in the oven. Around 6:30 the dinner table was set. We anxiously awaited our dinner and of course, the Irish soda bread. We got up and helped ourselves to an amazing feast. I picked up the soda bread at the very end of the buffet while loading it with butter. The butter made it even better, if that's possible. But it wasn't any ordinary butter. Yes, it was Irish butter that resembled gold. The butter was extraordinarily soft, and it was almost sweet. The butter added to the soda bread. It was sweet and salty. It was all we craved.
After dinner was done, the day would be over. We finished our desserts and finished all the leftover soda bread. We said farewell to family, we put away our gifts and headed upstairs to bed. The day was over. Another year we would have to wait for the legendary Irish soda bread.
by KAITLIN BARBER