A New Adventurer for a New Counselor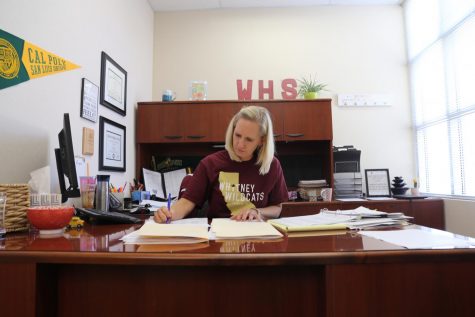 She's always wanted to be a counselor. Even though life decided to push her in different directions, it's always been something she has wanted to do. Counselor Mrs. Julie Casler has been pondering over being a school counselor for 10 years, time in which she was teaching at Rocklin and spending time with her family.
"The thought of counseling just never left my mind. My favorite part about teaching was working one on one with students… and so I just felt strongly that I needed to go into counseling," Casler said.
Casler had just finished her master's program at National University at the end of last school year, so when the opportunity here came up Casler decided to take it and start her first year as an official school counselor.
"I'm proud of finishing my masters. [At the time] I was working part time, and my husband was gone a lot with work, so I felt like a single parent a lot of times and I did my masters in two years so I didn't fall behind at all. So I'm pretty proud of myself for juggling all of that while trying to keep some form of normalcy for my family," she said.
With this being her first year as a counselor, she is learning a lot of things day by day. Each day is something different, from changing schedules to helping with crisis, and although she doesn't always seem to finish her to-do-list, she's busy all parts of the day.
"When I first went to go talk to her, she asked me 'how is your classes going?', she didn't just ask me what are you here for, she actually cared about my other classes," Anjani Kedia said.
Aside from counseling, where she answers students' questions and fixes their schedule, Mrs. Casler loves to go on adventures with her 9- and 10- year- old kids and spend some quiet time by herself.
"We hike, we camp, we love to go on road trips … Our goal is to show them as many national parks as we can. We love to go to Tahoe. We go to Tahoe as much as we can. I like to run, so that's what I do for myself," she said.
Mrs. Casler has been on many trips, but her greatest adventure would be the one that she went with her family, the summer of 2017.
Casler said, "I'd probably say our greatest adventure would be when we were in Vance, Canada. We're at Lake Louise and we took this five mile hike out to the Valley of Many Glaciers and you could see like five or six different glaciers from there. We like hiked over avalanche debris to get over there and it was quite the adventure."
by EMMA ACCACIAN, DYLAN DE VALK, RILEY MORELAN, & KATELYN VENGERSAMMY