What it's like: Honors LA III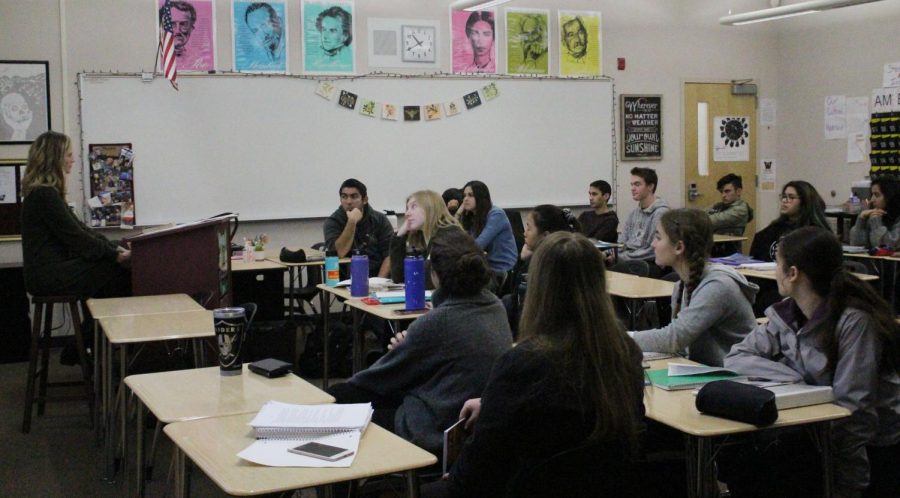 As a multi-part series, Whitney Update explores what it's like in each Advanced Placement and Honors course to give students an accurate perspective.
Annotating, highlighting and discussing are some of the key aspects for students enrolled in Honors LA III.   
Honors Language Arts III is an alternative to regular Language Arts III, for juniors who want to be challenged and engaged in complex discussions about literature. This class is directed toward students who have stayed on the advanced language arts track or those who are interested in taking AP Literature their senior year. It exposes them to college level text and different styles of writing. The only required prerequisites are having previously taken Adv. LA II with an A or B, or regular LA II with an A. According to Mrs. Emilie Cavolt, the average grade in the class is a B.  However students receive an elevated GPA because it is an honors course.
"[Students should take this class] to interact with peers who are engaged with the material and interested in developing as writers. [It will allow them to] embark on a personal investigation of literature, its purpose and how authors construct their work," Cavolt said.
Students are also given a lot of freedom in formatting their work.  
"[This class] is a lot less structured and formatted compared to other english classes I have taken. It allows you to develop ideas on your own," Ryan Murphy said.
Along with a manageable workload and a flexible working environment, students recommend this class for the experience they get out of it.
"People should take this class if they can write strong and like to analyze text deeply, the experience so far has really been eye-opening to classic texts," Savannah Prasad said.
Since it is an honors-level class and offers students a grade bump to their GPA, they have to devote a lot of time and work into the class to get good results.
"It has really given me a good foundation in writing and has taught me valuable skills that will allow me to enhance my writing ability in the future. Cavolt is an amazing teacher and will help anytime you ask her for anything. It has been hard, but it's worth the persistence. You definitely need to put in effort into your assignments and actively participate to do well, but you learn so much," Katie Scaglione said.
Going into the class, there is summer homework which is assigned toward the end of the school year and minimal homework assignments over breaks during the school year. The only reasons not to take the class would be if students are unmotivated and uninterested in formulating their own ideas and opinions.
Throughout the school year, students practice writing essays in class and also get the chance to write formal papers. Similarly students also partake in formal speeches and debates during the fall and spring semester. This class enables them to become well rounded individuals and better prepared for higher level literature courses.