Zachary Mason shares his story as captain of the men's varsity soccer team and part of ROTC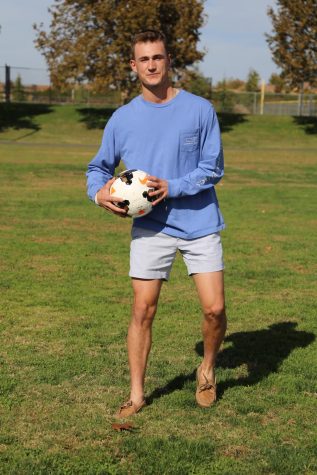 Q: What's your journey to becoming captain been like?
A: I've been playing soccer since I was a little kid. I love it because I've played all the sports, but soccer stuck with me because you're moving during the whole game, and it's a very competitive team sport, which I enjoy. Moving here from Louisiana my freshman year, I tried out and they brought me up to varsity at the second half of the season.
Q: What leadership roles or qualities did you acquire from being on varsity from freshman year to now?
A: I value brotherhood and think family is a big deal to create a good team atmosphere. For example, if we have one bad player, it reflects on all of us. Sophomore year was hard because there were a lot of bullies on the team, which further showed me what kind of captain I wanted to be. So when I became captain junior year, I tried to create a positive atmosphere for the team.
Q: What did you learn from playing soccer here these past four years?
A: Leadership. Being on a team that has so many different attitudes and personalities and knowing how to deal with one and how to deal with another that are completely different. Some people really thrive off of criticism and what they need to do better and some really thrive off of encouragement and not so much on what they did bad but what they can do to be better. Being on varsity taught me what it's like to be a good leader and showed me the kind of person I wanted to be when I became captain. 
"
. Being on varsity taught me what it's like to be a good leader and showed me the kind of person I wanted to be when I became captain. "
— Zachary Mason
Q: What changes do you feel you've made?
A: I think during my freshman year I was pretty cocky, but over the years I've really matured. I think having that senior attitude is a really bad attitude to have. I believe you should treat every year like it means something.
Q: How do you balance out ROTC and being captain?
A: It's pretty hard because ROTC is a lot of studying and focusing on what you want to do, and soccer takes up most of my time after school because I have a lot of practice. On top of that, you have a social life. So I really focus on school, soccer and ROTC. Those are my three priorities after my family and religion. It's difficult, but you can do it.
Q: Who's someone the you look up to?
A: I love Sergeant [Terry Barber] and Colonel [Michael Fernandes]. I think they're one of my mentors. I really look up to what they value and what they stand for. Sergeant really values leadership and integrity which I think is a really big deal. Colonel is about what people stand for.
Q: What's your favorite part about ROTC?
A: I've met some of my friends in ROTC during my freshman year that I'm now best friends with. Drill is something my friends and I always enjoy and it's a chance for me to be around them. 
by TAYLOR BUTLER & KATELYN VENGERSAMMY