New surveillance cameras bring mixed reactions
The new school year brought new teachers, programs and students; however, a new form of campus security was also introduced: surveillance cameras. 
Students and faculty were aware of two surveillance cameras installed only by the pool area, but now, 10 new cameras have been placed by the snack bar and the corners of class buildings.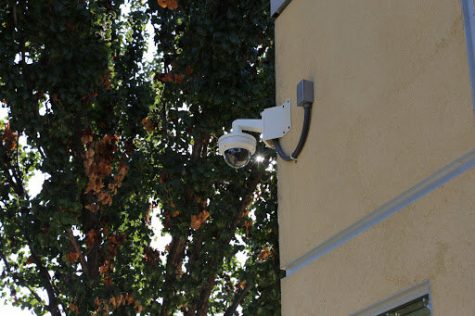 After four years of discussion about surveillance cameras on campuses, Rocklin Unified School District decided to execute the plan this year through a group represented by parents, teachers, administrators, law enforcement and district office members: the safety committee. 
"We've been in discussion about the [surveillance cameras] for about four years … but the safety committee really is what drove the idea. The committee met with recommendations about what changes we should we make and [then] the funding was the district decision. They had their budget and they allowed the money to the committee. As of right now, [the committee] is just making sure that [the cameras are] up and that they work," Principal Justin Cutts said. 
Despite student protection being a priority, the main purpose of the cameras is to protect the campus itself. 
"There are two full reasons [for the surveillance cameras]. One, we had a considerable amount of vandalism over the past three or four years since I have been here. A lot of what happens is it's Saturday or Sunday night, [there was] something and we had no idea about who did it. Really, the cameras are more of a deterrent. The second reason is not about watching a live feed all day long, but really about what happens on campus. It's a lot easier to go back and see at least the start of who did [something]," Cutts said. 
Although being a major part of campus-related discussions, teachers were not notified about the decision of implanting security cameras.
"I assume [the surveillance cameras] are to have the capacity to see when the campus is being vandalized and to monitor vaping, but no, [administration] did not tell us teachers. I think they're a great idea. It's for the better of the school and student safety is always first, but I don't think students mind [the cameras], and some didn't even noticed. The only thing that administration will use it for is if an incident does occur, then the school has video evidence of the situation," ASB Director Mr. Jesus Armas said. 
On Aug. 22, a segment in the Whitney Guidelines video during intervention mentioned the involvement of surveillance cameras, but administration has yet to release detailed information. 
"I didn't even know we had [surveillance cameras] –  I don't do anything bad other than being on my phone in class, but I don't like the fact that we're being watched 24/7 like a prison. I would like it if they sent out an email or message on one of the Whitney apps informing us about them adding cameras," Emily Beasley said. 
Students approached the situation by viewing both the downsides and benefits of the surveillance cameras. 
"Personally, [the cameras] are not my favorite because I sometimes feel like I am being watched and am unaware of what is happening with the footage taken of me. However, knowing that it can help to keep our students and staff safe, I think that it is a great step towards improving campus life," Brooke Shaefer said. 
Worries about feeling watched may be eliminated through knowing the surveillance cameras do not function as a live monitor for a large amount of individuals to watch. According to Cutts, the footage is reviewed by a small team that includes himself, the assistant principals and an official at the district office. While administrators can access it from their mobile devices, it's not something they sit watching continuously during the school day.
The surveillance cameras are not intended to be an intimidating figure for students. Rather they are purposely in discrete locations to diminish and catch any situations outside of school hours without students' knowledge. 
"Our goal is to not let people know [about the situations]. We had an incident two years ago were somebody broke into five classrooms and stole $10,000 dollars worth of computers and drones. It's these situations, where if we had the cameras then, we would've been able to catch the person or that would have never happened. Because of the cameras, everything has been perfect," Cutts said. 
The surveillance cameras have been working for the past three weeks. These new additions to the campus aim to protect the work of custodians, the expensive supplies and use for evidence of any situation.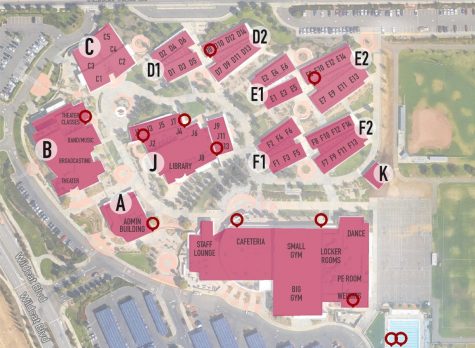 BY: ELIZA BROWN, ALICIA CHO, SOFIA MCMASTER, ANGELA ROBERSON