Women's soccer teams donate, wrap gifts for Pete's Christmas Walk Through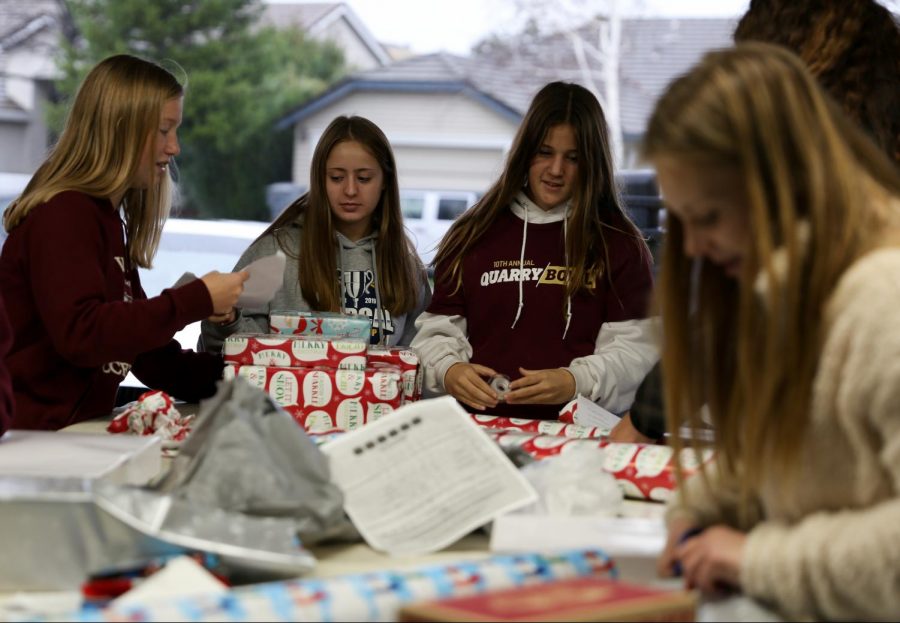 As a way to give back to the community, the women's soccer program teamed up to wrap hundreds of gifts for families in need on Dec. 14. JV player Maddie Hamp introduced the idea to the program, as her grandfather Pete Alcala is the owner of the annual Pete's Christmas Walk Through. 
"Pete's Christmas Walk Through is a Christmas light display set-up to support families in need in the Placer County area, including Lincoln, Roseville and Rocklin," Monica Hamp, Maddie's mother said. 
Alcala's two-acre plot of land is transformed into a Christmas themed light display for sponsored families to receive not only Christmas gifts, but normal everyday essentials. 
"Currently we are supporting twenty-five families, three families being from Whitney. Every year we give families presents that they can't afford such as a PS4 and a Nintendo Switch. Those are more on the expensive side, but smaller things are given to them such as a pair of socks, shaving cream, hygiene products, toothbrushes; simply things that they cannot afford," Hamp said. 
Instead of staying up late with her family wrapping hundreds of gifts for these families, the combination of the frosh/soph, JV, and varsity teams gave them the help they needed. 
"At this moment we have over 300 presents, we would have usually had to stay up until 4 in the morning to finish up all the wrapping. By next week we'll actually most likely have 200 more presents to give," Maddie said. 
Pete's Christmas Walk Through is nothing new. For the past nine years, Pete, along with his family, have been serving families in need to make their lives and Christmas season better. 
"We give them food, dinner, dessert and [families] start crying when we give them their presents. [The experience] is really special because [we] take everything for granted, then you come here, wrap the presents, and go out to [the walk through] and see [that] what we're doing is very special [for the families]. You meet people that you would never expect need help."  Hamp said. 
Seeing the simple things given to families in need provided the soccer team, and has been giving the Hamp family a rewarding experience. 
 "[Wrapping the gifts] made me feel very happy to help others in need. It was a great experience to work my soccer team for a bigger cause," Maddie Dukes said.

The walkthrough starts Dec. 19 and is located on 530 West Wise Road in Lincoln and anyone is welcome.
Hamp said, "Come out when we give out the family presents because it is [a] really special and heartwarming experience."
by SOFIA MCMASTER