District hosts forum to discuss later school start times
Led by the Educational Services staff, Rocklin Unified School District administrators hosted a forum in the cafeteria Jan. 10 to discuss and gather feedback on the debated topic of starting school later in the morning.
Starting school later has been implemented in schools all over California, and investigations show that starting school at a later time will help students focus in class, help them achieve higher scores and also decrease the amount of vehicle accidents.
The concept was first was brought up to the board by a student during the public input portion of a scheduled RUSD board meeting last year. In response, the board released a survey in October to all Rocklin Unified parents and high school students asking questions concerning the possibility of later start times. The survey gained over 3,700 responses, the majority showing interest in knowing more about the option.
"The survey was the initial push to see if people were interested. Out of those people, staff, students or parents, about 70 percent of the responses showed interest in looking more into this," Educational Services Director of Secondary Mr. Marty Flowers said.
The educational Services staff guided the investigation by looking into the possibility and developing six options. These options were developed through research and conversations with neighboring schools who decided to push back the start time of school. Two representatives, Flowers and Educational Services Deputy Superintendent Kathy Pons, led the meeting on Jan. 10, during which the six options were presented to teachers and parents who attended.
"The purpose of these survey forms are to collect input and to ask the question 'Are people interested looking at a later start?,'" Flowers said.
After a short video introducing the idea to the parents and staff, Flowers explained the six options. Then, the audience was let loose to explore each option, which was printed and hung up in six different areas of the room.
Option 1 is designed to push back all school start (elementary, middle and high school) times by 30 minutes. This would include pushing back the time school is dismissed by 30 minutes as well.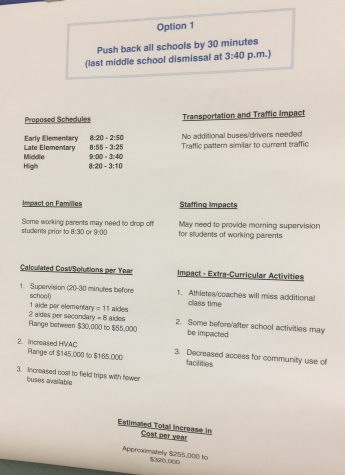 For Option 2, the articulation time on Mondays would flip from afternoon to morning. The school day on those days would begin at 9:20 a.m. and release at 2:40 p.m.
Option 3 includes pushing back the start time 30 minutes for high schools and middle schools, but not elementary schools.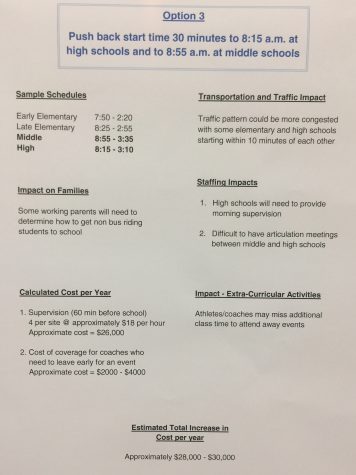 Option 4 includes pushing back the start time of high school an hour, beginning at 8:45 a.m.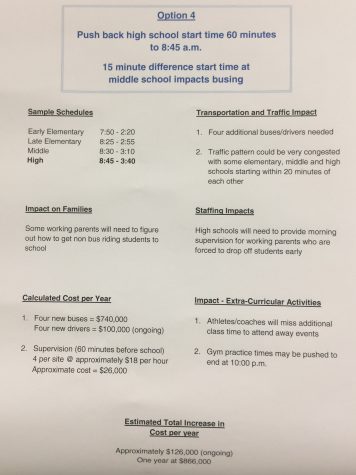 Option 5 moves the high school start time 85 minutes later, to 9:10 a.m.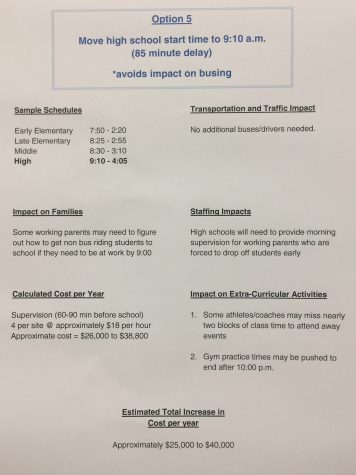 The final option is to keep the current time schedule.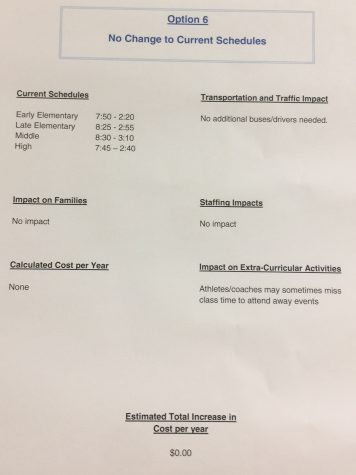 In each area was also a special projects teacher to answer questions.
"We are teacher support to provide research to improve and make the school day better for our students. I am very passionate about being aware of a student's health as well as academic knowledge," special projects teacher Mrs. Kari Auwae said.
Also in each area beside the option was a table with a pros and cons list and sticky notes for parents and staff to write their personal opinions on the proposal to stick to the poster.
"I'm kind of on the fence. I do understand the teenage sleep cycle and science behind this, but I also understand how this will disrupt the community. A city and community is built around these start times. If it was the decision in a vacuum it is quite clear we should push back school start times, but the downside is the disruption of the community," social studies teacher Mr. Scott Collins said.
While some were conflicted, many parents declared strong opinions on the subject. Mrs. Nancy Muir, mother of a Whitney student, worried about schedule changes.
"Students will be getting home later from school and from activities. They will be getting less class time because they will be having to leave for sports and they need to be in the classroom to learn. They are responsible for the kids the minute they step outside the door in the morning, so if they are sitting outside the bus stop for an hour waiting, it's not the parents' responsibility," Muir said.
A large concern was also whether the district would be able to pay for the expenses that would come with any of the options.
"I think we need to have the conversation, because you look at the research and it paints a pretty clear picture. But there is a cost to everything you do. If we are spending it on these things, what do we not fund in that process? Do the benefits we gain outweigh what we lose on the other end?," principal Mr. Justin Cutts said.
Flowers said the goal of the meeting was to gain as much feedback as possible for each option, in order to carry out what is most in favor.
To conclude the forum, Flowers conducted an online survey that each parent or teacher took on their phones to vote for each option they favored. Immediately after the survey, the results displayed that the majority opinion was for the sixth option, with 61.1 percent of those attending the meeting voting to keep times the same as they currently are.
According to a poll on @whitneyupdate on Twitter, however, 47 percent of the 296 students who voted supported a later start time.
Cutts believes there are alternatives to solving this issue that will be piloted next year.
"We are talking about doing a pilot next year, with basic classes posted online, so instead of being in class your first period, you can be in one of these classes," Cutts said.
After gathering feedback from two other additional forums being held next week, the board will take this feedback and decide which choice to put into action.
The board will conduct two more forums on Jan. 17 at Spring View Middle School and Jan. 19 at Rocklin Elementary, both starting at 6 p.m.
by RACHEL MARQUARDT