Ceramics I classes create egg shakers to practice slipping, coiling skills
Using a block of clay, Ceramics I students participated in a project in which they created egg shakers for the class. The egg shaker project is the process of taking a block of clay and making it into a hollow sphere. The project gets its name because the inside of the hollow sphere has roughly 30 tiny balls of clay that, when kilned, are turned into a hard solid that bounces off the walls of the egg shaker. Kilning is the process of turning clay into a harder version of itself by heating it to over 2,000 degrees. Students then make the shaker into anything they choose.
According to Ms. Lindsay Atlas, this project was one of their first and was used to not only encourages creativity, but also provided an opportunity to learn and improve their sculpting skills for future projects. 
"We always reflect back on that egg shaker. We always say, 'Remember when you did this?' or 'Remember when you built your shaker and how you took things off and redid them and how they looked so much better,'" Atlas said.
Since the first day of school, the class has been taught how to smooth and create objects of clay in order for them to stick or mold better. 
"I've learned how to do various techniques such as scratching, slipping and coiling of clay to make my sculpture pieces come together. I made my egg shaker look like Mr. Krabs," Emma Cherkez said.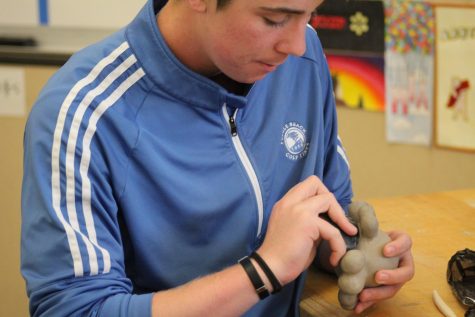 The technique of slipping means using a clay/water mixture to connect pieces of clay together, while coiling is the process of taking clay and rolling it into a string-like cylinder. 
On top of the three weeks used to build the shakers, students also used more time to take notes.
"We mostly took notes and other things like sketching what it's going to look like and watching videos of other people doing the same thing,"Jackson Floyd said.
The lasting impact is for future projects and possibly even painting the shakers when they are finally fired and dried. The use of this assignment is to let students know it is okay to mess up and be able to improve upon themselves.
Atlas said, "By the end of the project, they become more confident. I think that they become more relaxed if they screw up or have failure. This is to make it a space where it is okay to make a mistake. And by the time we are done, I feel like a lot of them can easily remake them in half the amount of time."
by CONNOR EATON