Distance learning causes changes in electives class structure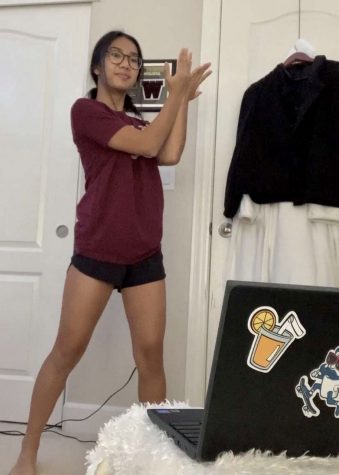 When Mayar Amin signed up for Theater IV, she was excited to make one of her last debuts in the fall play. The fall play, called "Love / Sick" by John Cariani, begins auditions Sept. 15. Unlike before, students will audition in a group of five and in a 20-minute time slot. While rehearsal is set to start Sept. 21, the showtimes are to be determined. For electives like the theater classes, technological problems have changed much of the traditional experience. After a month of distance learning, some electives changes have made it hard for students and teachers to adjust.
In dance classes taught by Mrs. Mallory Ansley, for example, students now learn dances and skills over Zoom calls. As a Dance II Hip Hop peer teacher, Angelo Alaguena does not like this significant difference in learning. 
"Usually, we'd be learning combos by now and dancing normally as a class. Personally, it's still very weird to me and I'm not very used to having to join Zoom calls all the time. I feel upset that we can't dance as a class. There's not much I like about the changes, since I'd rather be in the dance room, but the best thing about it is getting to dance every day rather than every other. The biggest difference is not seeing anyone in person, so it's hard to make friends and get the same bond as we usually would," Alaguena said. 
For Dance II peer teacher Chloe Darbo, she has adjusted her mindset to adapt to these circumstances. 
"There are obvious things that are different this year, such as having to learn dances and new skills over Zoom…[but] my Dance II period has done a great job … remaining positive and hardworking. As for me personally, I've adjusted fairly well to the changes by accepting that this is how things are going to be for a while, however, I'm hopeful for the day when I can see everyone in the dance room again," Darbo said. 
She also feels that there are some benefits as it has eliminated distractions and forces students to pay closer attention.
Even though dance has adapted well to online classes, choir students struggle to maintain participation and have been forced to work independently. Without the ability to rehearse together, they face difficulties over Zoom; connection issues, computer lag and poor audio quality contribute to many of the problems the choir faces.
"It's not just your voices; you really have to mesh as people. Choir depends heavily on a group's ability to function as one body. [There's] a lot of independent work when choir is a group effort," Diana Jones said.
However, the time for independent practice has helped singers strengthen their skills, perform exercises and build on previous experiences. While classes like dance and choir are facing issues with collaborative work, students in other elective courses are enjoying the independence of distance learning. 
Students from culinary are experiencing class in their own kitchen. Adam Alder mentions how cooking at home can be fun, even with limited instruction, because it creates a comfortable environment.
"[The teacher] explains assignments on Zoom [using] videos and then the following Sunday they're due … although right now we're just learning how to measure stuff and clean. The hardest part of doing culinary online is gathering your own ingredients," Alder said. 
And while many elective classes rely on visual examples, foreign language classes are struggling with poor auditory comprehension. Where in-person conversation usually occurs, communication is now a one-way street. 
"I've had to become more proficient at delivering lessons at a slower pace [and] be cognizant of my pace. Technology is a huge hurdle [and] online learning isn't conducive to learning a foreign language," Mr. Tod Furtado said. 
by KATIE LOMBA & LENNA VELDSTRA