Having siblings at home adds to the distance learning experience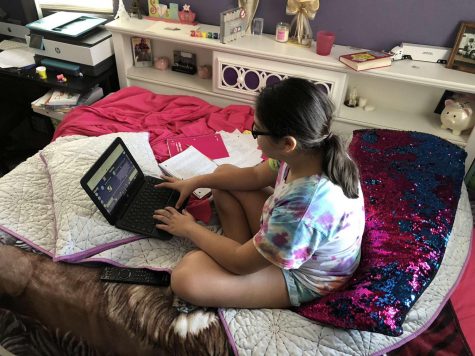 Titus Hutcherson logs into Zoom each morning with every intention of doing his best during distance learning, but it's not completely within his control. Having siblings pop in and out creates a distraction. As the school year has begun, obstacles occur as RUSD schools are temporarily forced into distant learning. Many students, such as Hutcherson, have their own challenges with online school, such as having siblings in the same household. 
"Sometimes Mikah comes in and shows me a TikTok while I'm in a meeting or sometimes Nyah and Mikah need help with the internet. But I'm usually left alone until I'm done with my work," Titus Hutcherson said.
Although siblings can be distracting, not all are. Students with siblings have come up with systems on how to work in a quiet or separate environment away from their siblings. Being in a different environment than their sibling has so far been successful for Carolina Garcia.
"We have our own spaces during class. We share a room so we decided that [during school] I would be in the room and Aylin would go to the dining table. So far it has been pretty successful, except when she's on break and wants to be in our room, but I just tell her to stay out of frame," Garcia said.
Students like Garcia have easily come up with ways to separate distance learning from their siblings by creating their own learning space, but others have struggled with finding enough room for everyone in the house, and this makes it challenging to find that quiet learning environment for themselves and their siblings.
"I have six siblings. Me and [my oldest sibling], Brinley, work in the same room. [Having all my siblings doing distance learning in the house] is not super difficult but if any of us need to go to the kitchen for lunch or grab something from another room we have to be quiet so that everyone can focus and do their work," Madelyn Kelly said.
Working from home and having school at home has forced families to spend more time together. Having siblings around all day has been able to help some students like Nikko Tablit form a closer bond with their family.
Tablit said, "For the most part I do enjoy having my siblings around during online schooling. It gives me the chance to help them with their stuff and create a closer bond."